Feature Story
Marjorie Engelman
Celebrating Wisconsin Visionaries, Changemakers, and Storytellers
Creating the Land of Freed Up Women
Storyteller | Marge Engelman | 1927 - Present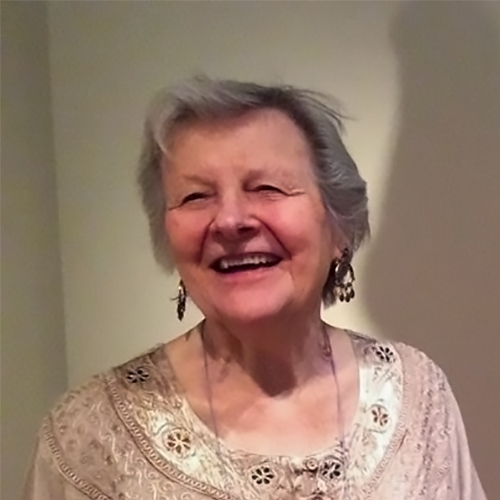 Courtesy of Ann Engelman
When Marge Engelman was in third grade, her teacher told her she had no artistic ability because she couldn't color inside the lines. Despite this criticism, Engelman went on to earn a master's degree in art and became a celebrated storyteller and artist who inspired generations of women.
Born in 1927, Engelman grew up on a farm in central Illinois. Her father wanted her to stay in the area and start a family, but Engelman had other plans. Inspired by a high school principal that saw promise in her academic career, Engelman became the only woman in her high school class to attend college, receiving a scholarship from Illinois Wesleyan University. She graduated with a degree in sociology and later earned a master's degree from Northwestern University.
After college, Engelman moved to Appleton, Wisconsin, with her husband who was a Methodist minister. As was common for ministers, the couple moved every few years, including stops in Whitewater, Green Bay, and Madison. While in Whitewater, an impromptu drawing class ignited a newfound creative spirit within her.
The Engelmans settled in Green Bay and Engelman began her career with the University of Wisconsin System in 1965. Engelman taught courses at the University of Wisconsin-Fox Valley Center and University of Wisconsin-Green Bay.
By 1971, in the midst of the feminist movement, Engelman had experienced a new sense of liberation. She had started her first job less than two years earlier in the office of the Assistant Chancellor for Community Outreach at the University of Wisconsin-Green Bay and found her work there exhilarating and freeing. Around the same time, Engelman began using the contraceptive pill and discovered reproductive freedom. She created "The Land of the Freed-up Woman," a feminist work of art depicting an American flag with stripes fashioned from bras.
Engelman chose the motif of the American flag because it symbolized freedom to her. In addition to the bras, Engelman used velveteen she had around the house to make the red stripes. She designed the blue field of the flag to look like a package of contraceptive pills as they appeared at the time, with three rows and seven columns of foam "pills," each column labeled with a different day of the week. The work was featured in an exhibition in the Neville Public Museum in Green Bay, at the National Organization for Women, and was used in a production by the Broom Street Theater in Madison.
Marge continued her career at the University of Wisconsin-Green Bay until 1985, teaching graduate courses in adult education and serving as Director of Outreach and Director of Affirmative Action. She was one of the first women administrators at the institution. Engelman is a Wisconsin storyteller whose art still inspires and empowers women today.
* This story is adapted from the Wisconsin Historical Society article Bra Flag and the University of Wisconsin-Green Bay Oral History Interview.
Sources: Wisconsin Women's History | Marjorie Jeckel Engelman, PhD, Presented with the Albert Nelson Marquis Lifetime Achievement Award by Marquis Who's Who