Feature Story
Helen Farnsworth Mears
Celebrating Wisconsin Visionaries, Changemakers, and Storytellers
Sculpting Genius of Wisconsin
Storyteller | Helen Farnsworth Mears | 1872 - 1916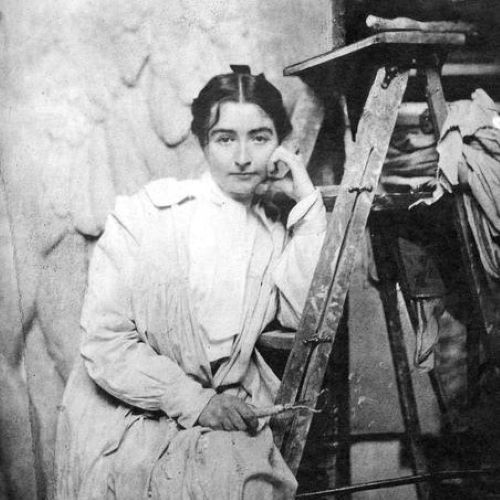 Helen Farnsworth Mears pausing her work for a picture on her ladder. - WHI Image #2902
Helen Farnsworth Mears is a celebrated storyteller, a renowned artist who launched her career with the sculpture "Genius of Wisconsin," commissioned for the World's Columbian Exposition of 1893.
Born in Oshkosh on December 21, 1872, Farnsworth Mears showed artistic ability at an early age, and she was encouraged by her parents to pursue sculpting. Her mother, Elizabeth, was a published poet and author. At the age of nine, the young self-taught artist modeled a bust of Apollo which was exhibited at the Winnebago County Fair, and at 16, her kneeling figure "Repentance" received favorable notice from the famed American sculptor August Saint-Gaudens, her future teacher.
While studying under Lorado Taft at the Chicago Art Institute, Farnsworth Mears was commissioned to do a figure to represent Wisconsin at the World's Columbian Exposition of 1893. The result was the nine-foot statue "Genius of Wisconsin," which now stands in the state capitol. In the late 1890s, Farnsworth Mears joined the Edgerton Art Clay Works. The company produced busts and figurines made from local terracotta. Helen then went to New York where she studied under August Saint-Gaudens, and later worked and studied under him in New York, Paris, and Italy.
In 1904, Farnsworth Mears was honored at the St. Louis Exposition for her work "The Fountain of Life." Her best-known work, a statue of suffragist and temperance reformer Frances E. Willard, was created under commission from the State of Illinois in 1898, and was unveiled in Statuary Hall of the U.S. Capitol in 1905. Among her other works are bronze busts of George Rogers Clark and William T. G. Morton, and bas-reliefs of August Saint-Gaudens, Edward McDowell, and her mother, Mary Elizabeth Mears. She was also the sculptress of the Adin Randall Fountain in Eau Claire, which was completed in 1914.
Her career was cut tragically short, but Farnsworth Mears left her mark as a Wisconsin storyteller and artist.
Sources: Helen Farnsworth Mears Historical Essay | Wisconsin Magazine of History: Volume 57, Number 4, Summer, 1974 | Edgerton Art Clay Works Historical Essay | Museum of Wisconsin Art Profile
Learn More: