Feature Story
Lutie Eugenia Stearns
Celebrating Wisconsin Visionaries, Changemakers, and Storytellers
A Champion for Literacy
Storyteller | Lutie Eugenia Stearns | 1866 - 1943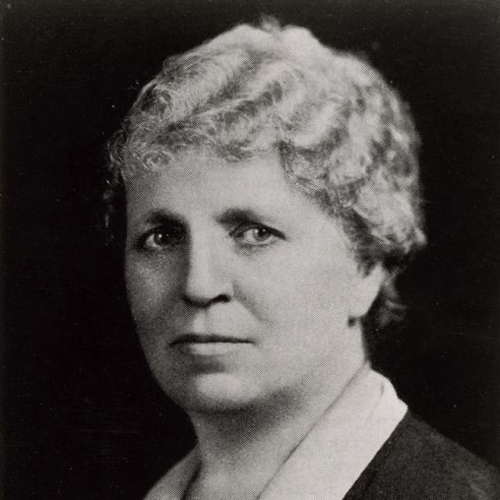 Portrait of Lutie Eugenia Stearns. - WHI Image #42955
Born in Massachusetts in 1866, Lutie Stearns, a celebrated storyteller, relocated with her family to Milwaukee in 1871, and in 1886 she graduated from the Milwaukee State Normal School. After teaching for two years in Milwaukee, Stearns joined the staff of the Milwaukee Public Library. She had been a teacher with a passion for literacy, and she understood that rural children needed access to literature just as much as urban children. Most Wisconsinites at the time lived on remote farms. Dirt roads, long distances, and winter weather kept them away from cultural institutions in towns. Thanks to encouragement from Stearns, legislators decided that if farmers couldn't travel to libraries, then libraries should travel into the countryside.
In 1894, Stearns met Frank A. Hutchins, one of the leaders in the Wisconsin free library movement. In the same year, she was elected secretary-treasurer of the Wisconsin Library Association, which Hutchins had organized in 1891. Together, Hutchins and Stearns worked for the establishment of a state free library commission.
Working for the Free Library Commission from 1897 to 1914, Stearns traveled throughout the state, lecturing and enlisting support for traveling libraries and for the establishment of permanent libraries. In 1903, the department of traveling libraries was created within the Free Library Commission, and Stearns was appointed its chief. Between 1895 and 1915, she helped establish more than 150 public libraries in Wisconsin.
In 1914, Stearns truly came into her own as a storyteller. She began to devote her time to lecturing and writing, and she became a leader in the women's suffrage movement and in the formation of women's clubs both in Wisconsin and throughout the nation. She was one of the founders of the Wisconsin Federation of Women's Clubs, and for a number of years she was a regent of the state normal schools. From 1932 to 1935, she wrote a weekly column for the Sunday Milwaukee Journal, and from 1935 until her death, she continued to be active in reform work. Stearns lived until 1943, after bringing books and libraries to thousands of state residents who'd never before had access.
* This story is adapted from the Wisconsin Historical Society Press book Warriors, Saints, and Scoundrels, available for purchase here.
Learn More: