Feature Story
Wisconsin Survivors of the Holocaust
Celebrating Wisconsin Visionaries, Changemakers, and Storytellers
Holocaust Survivors' Stories Live On
Storytellers | Wisconsin Survivors of the Holocaust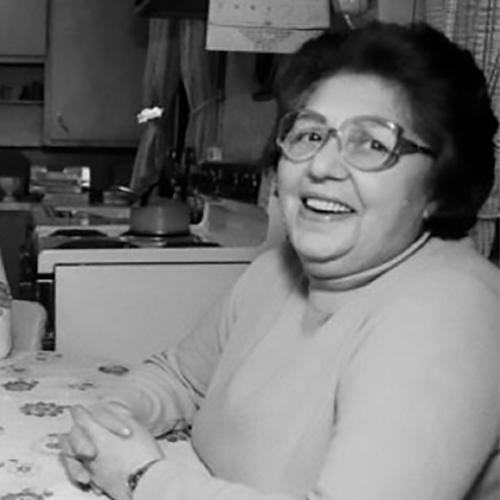 Holocaust survivor Rosa Goldberg Katz in her residence. - WHI Image #56887
Between 1933 and 1945, more than 17 million people were imprisoned, deported, killed, sentenced to forced labor, or left homeless during the Holocaust. After World War II finally ended in September 1945, about 140,000 survivors migrated to the U.S. More than 1,000 of them eventually settled in Wisconsin where a number of them became storytellers who provided firsthand accounts of their experiences to local historians.
Between 1974 and 1981, Wisconsin Historical Society archivists interviewed 22 Holocaust survivors and two American witnesses. These interviews, which generated more than 160 hours of recordings and over 1,600 images, detailed the tremendous loss and personal hardship suffered as a result of Nazi rule. Today, the collection is an invaluable resource for anyone who wishes to understand what led to the Holocaust and what life looked like for the individuals who survived one of the darkest periods of human history.
In their testimonies, the survivors recalled life in Berlin during the rise of the Third Reich, their experiences in the Warsaw and Lodz ghettos, and the terrible conditions at Auschwitz, Dachau, Bergen-Belsen, and other concentration camps. They described the fates of their families, starting life over again in post-war Europe, and emigrating to the U.S. and Israel. They also discussed being new American immigrants and life in Wisconsin's Jewish communities between 1945 and 1980.
One powerful survivor story is that of Rosa Katz. Katz lived in the Lodz Ghetto before she was sent to Auschwitz. When the war ended, she was a refugee and eventually found her way to Oshkosh in 1953. She raised four children with her husband Bernard and earned a degree in nursing. Although she still occasionally encountered anti-Semitism, her life in the U.S. provided new experiences such as the opportunity to act as a storyteller and key contributor to historical records of the Holocaust.
Sources: Rosa Katz: Oral History | Wisconsin's Holocaust Survivors - Image Gallery Essay | Oral Histories: Wisconsin Survivors of the Holocaust
Learn More: