Feature Story
Margaret A. Farrow
Celebrating Wisconsin Visionaries, Changemakers, and Storytellers
Wisconsin's First Woman Lieutenant Governor Paved Way for Others
Changemaker | Margaret Farrow | 1934 - 2022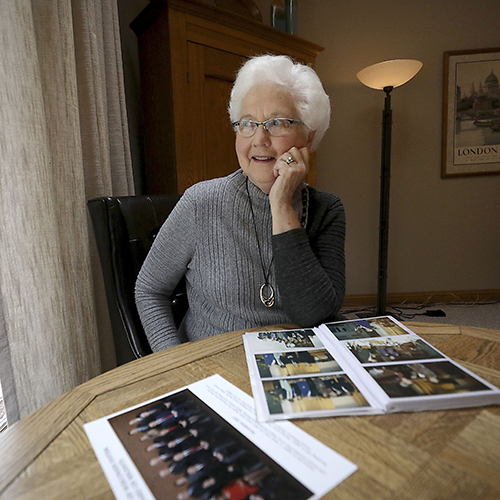 Margaret Farrow, Wisconsin's first female lieutenant governor, at her home in Pewaukee. Farrow, who served in the role from 2001-03, said learning that Wisconsin was the first to ratify the 19th Amendment that gave women the right to vote "lit the light" for her interest in politics. - Courtesy of John Hart, Wisconsin State Journal
Margaret Farrow is revered as a changemaker and the first woman to serve as Wisconsin's lieutenant governor.
Farrow grew up in Kenosha, Wisconsin. She cites her sixth grade civics class as what sparked her lifelong interest in government and public policy. Farrow attended Dominican Sisters of St. Catherine High School in Racine, Wisconsin, and Rosary College in Illinois, where she took every history class she could. She earned a bachelor's degree in political science and education from Marquette University. After graduation, Farrow worked as a teacher.
In the early 1970s, she became active in local politics, serving as a trustee and then president of the Village of Elm Grove, Wisconsin. Farrow was elected to the State Assembly in 1986. Three years later, she was elected to the Senate and was re-elected in 1990, 1994, and 1998. Farrow chaired Wisconsin Women's Council for nine years. Her tenure reshaped the council to focus on women in the workplace, improving women's access to education, vocational training, medical benefits, and childcare. In addition to chairing numerous government committees, she served on the boards of WisconsinEye, a public affairs television network, and the Board of Regents of the University of Wisconsin System.
Farrow made history when she was appointed by Republican Governor Scott McCallum and sworn in as Wisconsin's 42nd lieutenant governor on May 9, 2001. She was succeeded by two subsequent female lieutenant governors—Barbara Lawton who was elected along with Governor Jim Doyle in 2002 and Rebecca Kleefisch who served with Governor Scott Walker. Reminiscing on her career in an oral history Farrow stated, "I never ran as a woman. I ran because I loved public policy."
Like many Wisconsin women in public office, Farrow credits her ability to succeed in politics to the women who came before her. Her historic role in the Executive branch of state government as lieutenant governor, however, makes her an exceptionally significant changemaker for all to celebrate.
Sources: Margaret Farrow Historical Essay | Wisconsin LRB Oral History: Margaret Farrow YouTube video | "Margaret Farrow" Wisconsin Women Making History | "'Standing on the shoulders' of suffragettes, today's female lawmakers fight for women's rights," Wisconsin State Journal article