Feature Story
Lloyd Barbee
Celebrating Wisconsin Visionaries, Changemakers, and Storytellers
A Wisconsin Civil Rights Leader
Changemaker | Lloyd Barbee | 1925 - 2002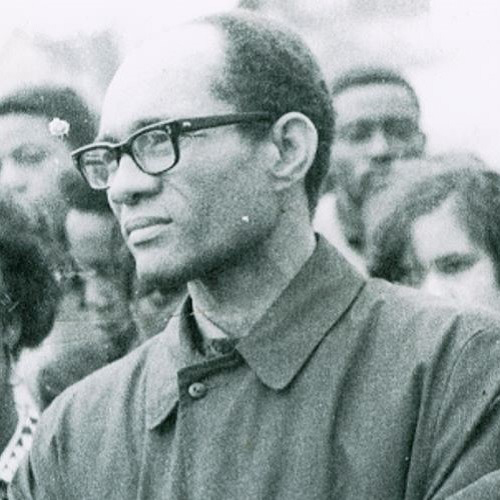 Lloyd Barbee in a somber crowd at a memorial gathering for Dr. Martin Luther King, Jr. - WHI Image #48141
Lloyd Augustus Barbee was a changemaker: an attorney, legislator, and one of the most prominent leaders of Wisconsin's civil rights movement who fought for school integration in Milwaukee.
Born in Memphis, Tennessee, on August 17, 1925, he joined the NAACP at just 12 years old and served in the U.S. Navy during World War II. After graduating from LeMoyne-Owen College in 1949, Barbee moved to Madison to attend the University of Wisconsin Law School, but dropped out after his first year having encountered racism among his peers and professors. This experience and his early involvement in the NAACP were key factors in Barbee's drive to become an advocate in the movement for civil rights and equality in education.
Barbee eventually received his law degree in 1956 and moved to Milwaukee in 1962 where he organized and led an alliance of civil rights activists dedicated to ending de facto segregation in the city. Frustrated by the persistence of segregation in schools, Barbee decided to file a federal lawsuit in 1965, Amos et al. v. Board of School Directors of the City of Milwaukee, charging the Milwaukee School Board with unconstitutionally maintaining racial segregation in its schools. Barbee finally won the case in 1976, but spent the next several years navigating appeals, new trials, and work to enact a viable plan to desegregate the school system.
Barbee also served in the Wisconsin State Assembly from 1965 until 1977 where he introduced legislation concerning fair housing and employment practices. As a legislator, Barbee championed unpopular ideas and causes often in support of marginalized communities. Reflecting on his years in the Legislature working to toughen the state's fair housing laws, he said, "This, among other matters, earned me the reputation as a person who stayed on the job until it was completed as planned."
Later in his life, Barbee continued to work as a lawyer and remained a changemaker committed to promoting human rights, fighting segregation, and advocating social change until his death on December 29, 2002, at the age of 77.
Sources: Lloyd A. Barbee Historical Essay | University of Wisconsin Milwaukee March on Milwaukee Civil Rights History Project | "Justice for All" Milwaukee Journal Sentinel Article | Lloyd A. Barbee Papers, 1933-1982 in the Wisconsin Historical Society Archives
Learn More: