Feature Story
C. Latham Sholes
Celebrating Wisconsin Visionaries, Changemakers, and Storytellers
Typewriter Inventor Ends Death Penalty in Wisconsin
Visionary | C. Latham Sholes | 1819 - 1890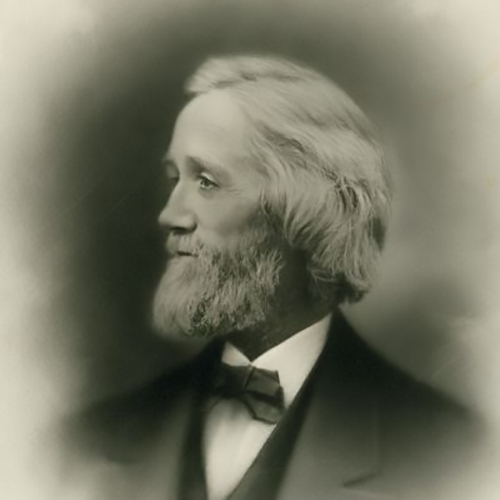 A portrait of Christopher Latham Sholes, the inventor of the typewriter. Sholes was an editor in Kenosha, Wisconsin, and later continued this work in Milwaukee, Wisconsin. Sholes invented the typewriter during his time in Kenosha. WHI Image 33920
C. Latham Sholes was a visionary who is best known for inventing the typewriter, a cutting-edge information technology in its day, which has now all but disappeared. But before that, he led the effort to outlaw the death penalty in Wisconsin, which was the first state to do so.
Sholes was born in Pennsylvania in 1819 and as a young man apprenticed as a printer. In 1837, he traveled west to the new territory of Wisconsin, where he joined his brothers in producing a newspaper in Green Bay. In 1839, Sholes started his own business with the Wisconsin Enquirer in Madison, and the next year started the Kenosha Telegraph, which he published until 1857. Sholes also served in the legislature three times during those years.
While he was editing the Kenosha paper, the state's only legal execution took place in the city. On August 21, 1851, John McCaffary was hanged for drowning his wife in a rain barrel. Thousands of spectators, including some of the state's leading citizens, came to watch. They were treated to a particularly gruesome spectacle as McCaffary hung from the gallows, kicking and twitching, for nearly 20 minutes.
Sholes attended, and was appalled. He quickly mobilized against the death penalty, chairing the committee in the state assembly that introduced a bill prohibiting state-sponsored executions. It was an unpopular idea, but Sholes appealed to a higher court than public opinion: "Life has been given by the Creator for his own wise purposes," he told his colleagues. "It is his gift, subject to his disposal, and there can be no sacrilege greater than to extinguish with rude and violent hands the flame which he himself has lighted."
The Assembly passed his Death Penalty Repeal Act on March 9, 1853, by a vote of 36 to 28. On July 8, the Senate concurred, 14 to nine, and two days later Governor Leonard Farwell signed the nation's first bill ending capital punishment. Attempts to overturn the legislation failed in 1857, 1866, 1937, 1949, and 1955. John McCaffary remains the only person ever legally executed by the State of Wisconsin.
In 1872, Sholes led the team that invented the first practical typewriter, eventually selling his rights to the Remington firearms company, which came to dominate the typewriter market in the following decades. He died in Milwaukee in 1890. C. Latham Sholes is remembered for his visionary work in creating the typewriter, but he also left his mark on Wisconsin by leading the fight to abolish the death penalty.
*This story was adapted from the Wisconsin Historical Society Press book Warriors, Saints, and Scoundrels, available for purchase here.
Learn More: