Feature Story
Ezekiel Gillespie
Celebrating Wisconsin Visionaries, Changemakers, and Storytellers
Milwaukee's Trailblazer for Black Voting Rights
Visionary | Ezekiel Gillespie | 1818 - 1892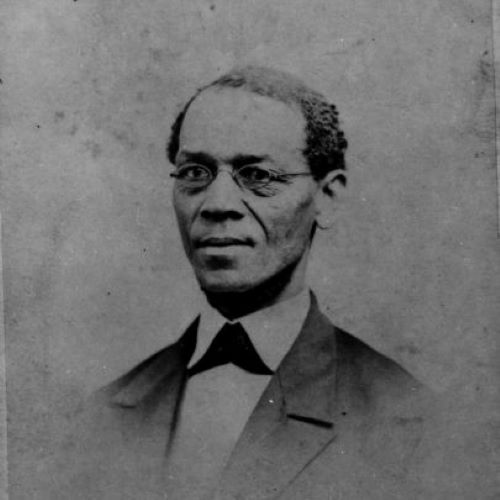 Head and shoulders portrait of Ezekiel Gillespie. WHI Image 33364
Born in 1818 in Greene County, Tennessee, Ezekiel Gillespie was the son of an enslaved woman and her white enslaver. As a young man, he purchased his own freedom for $800 and made his way to Milwaukee where, in 1851, he opened a grocery store. Gillespie was a visionary whose actions were instrumental in suffrage for African American men in Wisconsin.
After Gillespie's business failed during the Panic of 1857, he worked for railroad magnate Alexander Mitchell as a messenger for the Milwaukee & St. Paul Railway Company. He assisted freedom seekers along the Underground Railroad during the Civil War and helped a friend open the first African American church in Wisconsin. He was highly respected in Milwaukee's Black community.
In 1865, Gillespie attempted to register to vote under the provisions in Wisconsin's 1848 constitution. Officials turned him away, so he took them to court with the help of attorney Byron Paine. Gillespie, who was willing to work for a better, more equitable society, carried his case all the way to the Wisconsin Supreme Court.
The landmark case decided that a referendum in 1849 had actually approved suffrage for African American men. Black citizens had been unfairly denied their rights for more than 15 years. In the spring election of 1866, Gillespie and other Black Milwaukeeans braved curses and abuse from onlookers and voted for the first time. After his death in 1892, Gillespie's remains were buried in the Forest Home Cemetery in Milwaukee, which is listed on the National Register of Historic Places. People visit his grave today to pay homage to the visionary who won the vote for African American men in Wisconsin.
*This story was adapted from the Wisconsin Historical Society book Warriors, Saints, and Scoundrels, available for purchase here.
Learn More: