Feature Story
Teresa Kuykendall
Celebrating Wisconsin Visionaries, Changemakers, and Storytellers
Real-life 'Rosie the Riveter' Symbolized Women's Vital Role During World War II
Changemaker | Teresa Kuykendall | 1920 - 2005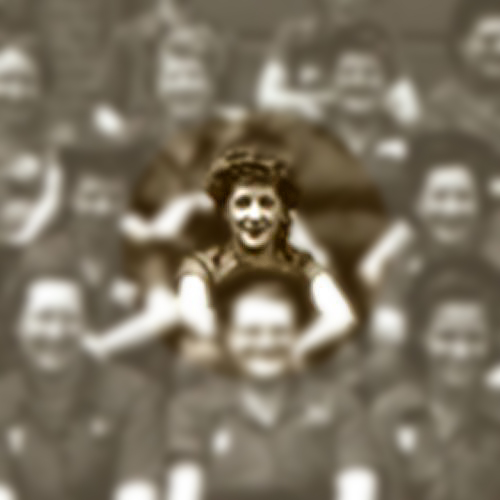 Women workers pose outside Fairbanks Morse, 1943-1945. Teresa is highlighted in the above image. Courtesy of Sandy Davis Miller
Teresa Kuykendall was born on November 22, 1920 in Cold Springs, Wisconsin. She began working for a Beloit factory that manufactured diesel engines for the Navy during World War II and became a real-life "Rosie the Riveter" and a Wisconsin changemaker.
Kuykendall started working for Fairbanks, Morse & Company four years after the start of WWII. While there, she learned how to operate machinery like lathes, drills, and milling machines. Female workers who worked in the factory at the time wore blue cotton coveralls issued by the company. Such coveralls became the signature attire of Rosie the Riveter, a fictional character who symbolized working women, and especially those in factories.
Rosie, immortalized by painter Norman Rockwell in 1943, was created by the federal government "to sell the importance of the war effort and to lure women into working." By the time the war ended in 1945, women like Kuykendall made up a significant proportion of the American workforce. Many of these women discovered the rewards of working outside the home for the first time: learning new skills, contributing to the war effort, and proving themselves in jobs traditionally reserved for men. For women who were already in the workforce, WWII provided a wider range of job opportunities, often with better pay.
Kuykendall received several pairs of coveralls during her employment with Fairbanks, Morse & Company which she saved until her death in 2005. Today, her coveralls are part of the Wisconsin Historical Museum's collection where they serve as a reminder of the vast contributions of women during WWII. Like millions of other women who supported the war effort by filling vital factory jobs, Kuykendall is a changemaker who helped lay the foundation for a more diverse and representative workforce.
*This story was adapted from the Wisconsin Historical Society's 'Rosie the Riveter' Coveralls Historical Essay.