Feature Story
Earlene Fuller
Celebrating Wisconsin Visionaries, Changemakers, and Storytellers
A Star Bowler with an Eye for Design
Storyteller | Earlene Fuller | 1931 - 2008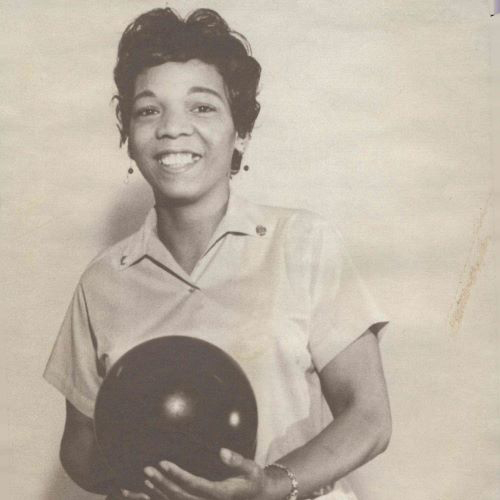 From the collection of Earlene Fuller bowling league photographs, 1963-1995. WHS M2010-013 MAD 2M/71/D4
Earlene Fuller was a storyteller, national champion bowler, teacher, and a talented designer who set trends with her custom-tailored bowling uniforms.
Born in Jackson, Mississippi in 1931, Fuller moved to Milwaukee at age 17. She found work as a presser for a women's apparel manufacturer and became a skilled tailor. In 1960, Fuller discovered another passion and lifelong hobby: bowling.
Until 1950, the American Bowling Congress and its sister organization, the Women's International Bowling Congress, barred people of color from membership which prevented African Americans from bowling competitively. The organizations were desegregated, but Fuller still bowled primarily on all-Black teams throughout the 1960s.
By this time, Fuller was designing custom clothes as a side job, presenting an opportunity to unite her two passions. Her first order for custom bowling shirts came in 1970, and her eye-catching designs quickly caught the attention of others. Soon, designing bowling shirts became her full-time occupation.
In the 1970s, Fuller competed with a bowling team that won two city championships in Milwaukee and two championships at the state level. She won the Milwaukee all-events title in 1978, and the following year she became the National Bowling Association's scratch singles champion. Fuller started to bowl on integrated teams in the mid-1970s and became one of the few African Americans to participate in Milwaukee's Coors All-Star league. She played for the Red Carpet All-Star team and bowled a remarkable 300 game in 1983 before being inducted into the Milwaukee Women's Bowling Association Hall of Fame in 1992.
Fuller was not afraid to embrace her ethnic identity and in the 1990s she began incorporating kente cloth and other African-inspired fabric patterns into the bowling shirts she made for herself and teammates. Kente cloth is a distinctive textile which has come to symbolize African identity and Black pride. When Fuller died in January 2008, she left a lasting legacy as a talented designer and a storyteller who made bowling shirts to celebrate Black culture and expand bowling history to include a part of her heritage.
*This story was adapted from the Wisconsin Historical Society essay, African American Bowling Shirt.
Learn More: