Feature Story
Edward R. Farber
Celebrating Wisconsin Visionaries, Changemakers, and Storytellers
Newspaper Photographer Invents Portable Flash Unit
Visionary | Edward R. Farber | 1914 - 1982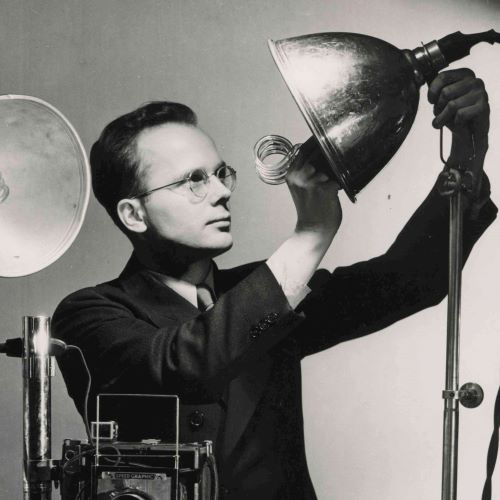 Edwin Farber examines a large light fixture WHS M84-232-Box1
Edward Rolke Farber was a visionary, a prize-winning Milwaukee Journal photographer, and the inventor of the first widely successful portable electronic flash unit. Called the Stroboflash, the unit was used by news photographers.
Farber was born in Milwaukee on July 22, 1914. He began experimenting with lighting when he was only 15. He and his friends created a company that made neon lights for churches and businesses. He learned about electronic lighting experiments happening at the Massachusetts Institute of Technology (MIT) in the 1930s.
Farber graduated from the University of Wisconsin–Madison in 1936. After college he found employment as a photographer for the Milwaukee Journal. Since they were heavy and difficult to transport, strobes were only used in studios rather than out in the field. Farber worked to create more portable strobes for newspaper cameramen. He adapted existing strobe technology to a battery-powered, portable unit for himself and colleagues at the newspaper.
The Milwaukee Journal began using the Stroboflash in 1942. The Milwaukee Journal outfitted six of their photojournalists with the new equipment. It allowed photographers to take flash photographs quickly and not wait to reload a bulb or powder.
Farber left the newspaper and founded Strobo Research in 1945 with engineer and photographer Robert Dumke and photographer Frank Scherschel. He sold the company in 1954. After that, Farber continued to develop new inventions, write for photography magazines, and exhibit his prints. He also studied political science and city planning so he could help influence the development of Delafield and other Milwaukee suburbs.
Farber died of a heart attack in 1982 at the age of 67 at his home in Delafield. A celebrated Wisconsin visionary, Farber's idea to create a portable flash unit made it easier for newspaper photographers to capture moments of history on the go, unlocking new possibilities in the field of photojournalism.
Sources: Edward R. Farber, Inventor of Flash | MAM's "Portrait of Milwaukee" nods at Brew City flash pioneer
Learn More: