Feature Story
Ada Deer
Celebrating Wisconsin Visionaries, Changemakers, and Storytellers
Life-long Learner, Force for Indian Rights, Diplomacy, and Education
Changemaker | Ada Deer Menominee | 1935 - present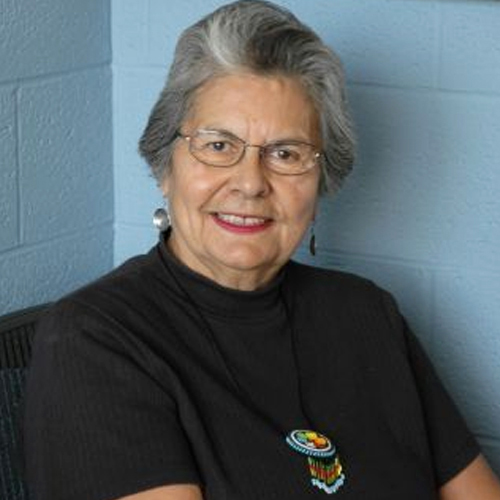 Ada Deer (Menominee), 2007. Nationally recognized American Indian leader and civil rights activist Ada Deer is one of five individuals honored by the Society as a 2007 Wisconsin History Maker. - Wisconsin Historical Foundation
Ada Deer, a member of the Menominee Indian Tribe of Wisconsin, is nationally recognized for her leadership and accomplishments on behalf of helping Native people. Born in 1935 in Keshena, Wisconsin to Constance and Joseph Deer, Deer's legacy and collective contributions stem from the diverse body of her lifetime's work, including community organizing, social work, education, and diplomacy between federal and tribal government. She spent her childhood living on the Menominee reservation; she became a voracious reader, growing up with a strong love for books from a young age. Today, Deer's combined lifelong love of learning and service to others has led her to be a changemaker, a champion for Native people and the rights of self-determination, including becoming the first woman in history to lead the U.S. Bureau of Indian Affairs (BIA) in 1993.
As a young adult, Deer moved from Keshena to pursue her college education and attend classes at University of Wisconsin-Madison where she earned her bachelor's degree, later attending Columbia to earn a master's in social work as well. Prior to being appointed by President Bill Clinton to serve as the Assistant Secretary for Indian Affairs in the U.S. Department of the Interior, Deer was elected and served as chairwoman for the Menominee Indian Tribe of Wisconsin.
Her election to office as a tribal leader came in 1974 after working in Washington, D.C. to help the Menominee successfully repeal termination. Following the U.S. decision to terminate the Menominee, Deer was among the founders of the 1960s grassroots organization DRUMS, or Determination of Rights and Unity for Menominee Stockholders. DRUMS called on Congress to restore the Menominee's federal recognition, ultimately charting a path to the Menominee Restoration Act of 1972 and officially reinstating federal status of the Menominee.
Deer's tireless work in the fight for Indian peoples' rights also led to her becoming an educator and highly respected leader in higher education. Both before and after her years in office, Deer taught classes at the University of Wisconsin-Madison in the School of Social Work. Developing groundbreaking classes in the 1970s on Native American issues and multiculturalism, she created the first program to provide social work training on reservations.
Deer has been involved with the Native American Rights Fund for decades as part of her social justice work and became the director of the American Indian Studies Program at University of Wisconsin-Madison in 2000, as well as a fellow at the Harvard Institute of Politics at the John F. Kennedy School of Government. Deer's enormous investments in education, people, and communities through her steadfast dedication to learning and work advocating on behalf of Native people has earned her numerous awards, accolades and national recognition as a changemaker whose positive impact will continue to be felt for generations to come.
Sources: Ada Deer Receives 2007 'Robert and Belle Case La Follette Award for Distinction in Public Service' feature story from the Wisconsin Historical Society.
Learn More: