Feature Story
Carl Eliason
Celebrating Wisconsin Visionaries, Changemakers, and Storytellers
Ingenuity That Led to the Modern Snowmobile
Visionary | Carl Eliason | 1899 - 1979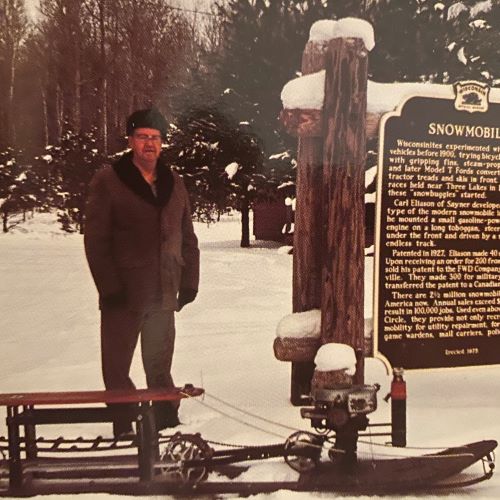 Carl Eliason, inventor of the modern day snowmobile, stands next a snowmobile and the historic marker in Sayner. - Courtesy of Vilas County Historical Museum
Carl Eliason loved the outdoors in the winter but physical limitations motivated him to think of a new way to travel over the snow. A Wisconsin visionary, his incredible ingenuity paid off when he developed the prototype of the modern snowmobile in 1924.
Eliason was born in 1899 in Michigan's Upper Peninsula. Ten years later, he moved with his family to Sayner, Wisconsin. When he was young, Eliason was interested in hunting and trapping but since he was born with a chronic foot problem, it was difficult for him to check his trap line and keep up with his friends in the deep snow. Snowshoes were nearly impossible to use because of his foot problems, so he decided to experiment with other forms of winter transportation.
Eliason tested his first working prototype of a motorized toboggan in the woods around Sayner. The vehicle featured a small gasoline-powered engine mounted to a long toboggan with skis for steering. He cobbled it together with some old skis and parts from a Model T Ford, a boat motor, and his bicycle.
Starting in 1924, Eliason built motorized toboggans in his shop in Sayner. Patented in 1927, he made 40 snowmobiles. Upon receiving an order from Finland for 200 more, he sold his patent to the FWD Company of Clintonville, Wisconsin. They made 300 snowmobiles for military use, then transferred the patent to a Canadian subsidiary in 1947. Eliason Motor Toboggans were in production until about 1965.
Eliason overcame adversity and didn't let his chronic foot problem stop him from enjoying outdoor winter pastimes. His visionary idea for snow travel led to the creation of the modern day snowmobile. Eliason died in 1979 and was inducted into the Snowmobile Hall of Fame in 1991.
Sources: Carl Eliason's Motor Toboggan | Carl Eliason Snowmobile Hall of Fame Profile
Learn More: