Feature Story
Carson Gulley
Celebrating Wisconsin Visionaries, Changemakers, and Storytellers
Beloved Chef Breaks Down Barriers in Media and Housing
Storyteller | Carson Gulley | 1897 - 1962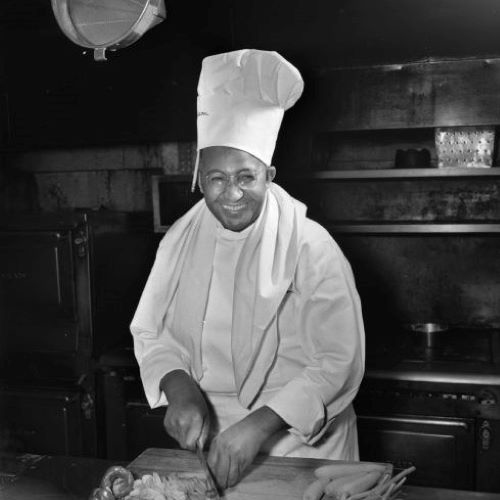 Chef Carson Gulley, University of Wisconsin-Madison residence hall chef, chopping vegetables. - WHI Image 48994
Carson Gulley was a celebrated storyteller and a notable figure in mid-twentieth century Madison, known for his expertise as a chef, educator and media pioneer. Gulley travelled across the Midwest, sharing the art of cooking and breaking down racial barriers through teaching, radio, and television. Later in life, Gulley was active in the Madison, Wisconsin branch of the NAACP and fought for fair housing in the city.
Gulley was born in 1897 in Nevada Township, Arkansas. He relocated in 1921 during the Great Migration, a movement in which six million African Americans relocated from rural southern states to northern and Midwestern cities. Gulley was employed as a cook at the Essex Lodge in Tomahawk, Wisconsin, when Don Halverson, the director of university housing at University of Wisconsin-Madison, happened to stop in for a meal. Halverson offered Gulley a job at the university which he accepted.
Serving as head chef at the University of Wisconsin–Madison from about 1927 to 1954, Gulley's cuisine was considered comparable to what one might find at a fine dining restaurant. He developed a two-year chef training course and was one of the first African American instructors at the college. Recognizing his teaching skills, the US Navy chose Gulley to direct a school for cooks and bakers during World War II.
Gulley was also a local pioneer in television and radio programming. He and his wife, Beatrice Russey, were the first African American couple to host their own television cooking show in the 1950s. In 1953, he hosted a twice-weekly local radio cooking program, and each month compiled the program's recipes into booklets that listeners could request by mail.
Despite his success in the culinary arts, Gulley was not spared from harsh and persistent practices of racial segregation and exclusion at his university job and in the Madison community. Finding suitable housing in Madison was an ongoing struggle for his family. These experiences led Gulley to make an impassioned plea to the Committee on Human Rights of the city council.
Gulley became ill due to complications from diabetes and died on November 2, 1962. At the height of the Civil Rights Movement in 1965, the UW Regents voted to name a building on campus after him. Gulley's life was filled with many successes and challenges, and he is remembered as a storyteller who broke down barriers to share his love of cooking with Wisconsinites.
*This story was adapted from the Wisconsin Magazine of History article The Life and Times of Carson Gulley and the Wisconsin Historical Society article 10 things you might not know about Wisconsin's African American history.