Feature Story
Robert Albert Bloch
Celebrating Wisconsin Visionaries, Changemakers, and Storytellers
A Writer of Weird Tales
Storyteller | Robert Albert Bloch | 1917 - 1994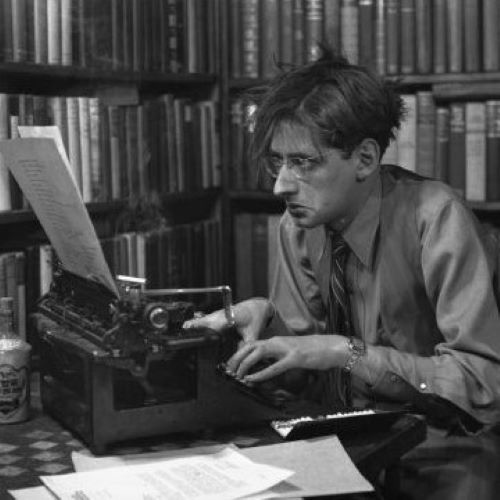 Robert Albert Bloch, author of Psycho, surrounded by tall bookshelves full of books, is sitting in front of a typewriter with an open cigarette case full of cigarettes, a bottle of Wing Fhung Hong, and a pile of papers. WHI Image 64463
Robert Albert Bloch was an award-winning horror, crime, science fiction, and fantasy writer best known for his 1959 classic "Psycho." A Wisconsin storyteller, he helped reinvent the suspense genre in fiction, film, and television.
Born in Chicago on April 5, 1917, Bloch's family moved to Milwaukee in 1929. As a child, he saw "Phantom of the Opera," a movie that inspired the future author. Other early inspirations included Weird Tales magazine. H. P. Lovecraft, a frequent contributor to Weird Tales, became one of Bloch's favorite writers. Bloch sent a fan letter to Lovecraft that sparked a friendship between them. Bloch sent his early works to Lovecraft who reviewed them and returned feedback.
Weird Tales initially rejected Bloch's submissions until similar publications began to pick up his stories. He quickly became one of the magazine's most popular authors. Bloch first received national attention for his short story "Yours Truly, Jack the Ripper," which was adapted for radio across the country.
Bloch joined the writers' group the Milwaukee Fictioneers with Stanley Weinbaum, Ralph Milne Farley, and Raymond A. Palmer in 1935. After more than a decade of writing predominantly short stories, Bloch's first novel, "The Scarf", was published in 1947. Bloch continued to rise in the ranks of the fiction world, writing 30 novels, but he is best known for "Psycho." The 1959 novel was the inspiration for the Academy Award-winning Alfred Hitchcock film by the same name which was released in 1960.
Following the success of "Psycho," Bloch began writing for movies and television, but still set aside time to work on novels and short stories. He wrote several scripts for the television show "Star Trek" which were screened in 1966 and 1967. Bloch died in 1994 at the age of 77. Like Lovecraft did for him, Bloch inspired another generation of future storytellers, most notably Stephen King.
Sources: "Once Around The Bloch: An Unauthorized Autobiography" | Wisconsin Literary Map | Master Horror Writer Robert Bloch Dies, The Los Angeles Times
Learn More: