Feature Story
Robert J. Doyle
Celebrating Wisconsin Visionaries, Changemakers, and Storytellers
World War II Through the Eyes of a Wisconsin Storyteller
Storyteller | Robert J. Doyle | 1914 - 1995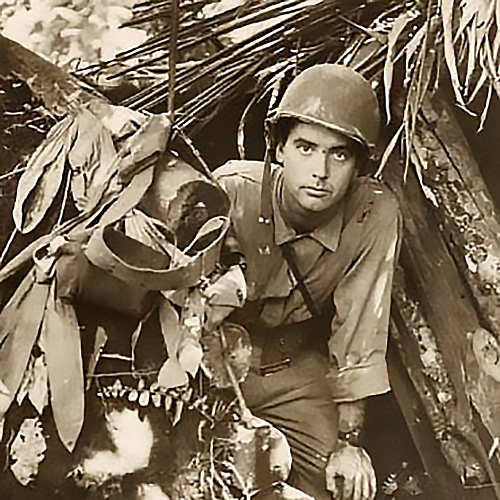 Robert Doyle emerges from a captured Japanese pillbox at Buna, New Guinea, (present day Papua New Guinea). The pillbox is built of dirt, logs and foliage. WHI Image 10084
Robert J. Doyle, a celebrated Wisconsin storyteller, became a reporter for the Milwaukee Journal in 1939. In 1942, during World War II, he was sent overseas by the newspaper to cover the lives of the soldiers serving in the 32nd Infantry "Red Arrow" Division. The division, a National Guard Unit primarily made up of Wisconsin and Michigan soldiers, set sail for the Southwest Pacific region in April 1942. Robert Doyle caught up with them in Brisbane, Australia, the following October.
Doyle immediately dove into his duties as a civilian newspaper correspondent and began telling the stories of the soldiers he encountered. A gifted storyteller, Doyle's writings and numerous photographs paint a vivid picture of life during wartime.
Doyle captured photographs covering everything from high-ranking officer's visits, to the daily duties of soldiers, officers, and medical staff. He was friendly with the soldiers and was known to turn his camera over to others. Many photos exist of Doyle interviewing, posing, and kidding around with the soldiers.
One of the hallmarks of his articles were the names and addresses he included so family and friends back home would know that their loved ones were safe, as he was often not allowed to identify the company or location. His work and empathy for his subjects made him a household name as a Wisconsin storyteller.
Sources: Robert Doyle, Civilian War Correspondent | The Soldiers of the Red Arrow Division - Image Gallery Essay
Learn More: