Feature Story
Milly Zantow
Celebrating Wisconsin Visionaries, Changemakers, and Storytellers
Recycling Pioneer Created a Plastic Numbering System
Visionary | Milly Zantow | 1923 - 2014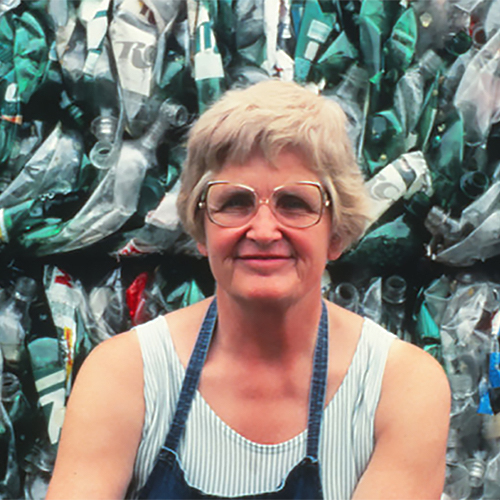 Longtime Sauk County resident Milly Zantow (1923-2014) devised the numbering system used across the world for recycling plastics, and also helped write Wisconsin's first mandatory state recycling law, which passed in 1990. - Courtesy of Wisconsin State Journal Archives
Recycling is now a way of life for people across the world, with many of us accustomed to looking for the numbered triangle stamped on the bottom of plastic products. For that, we can thank longtime Sauk County resident Milly Zantow, a little known but true Wisconsin visionary who sparked an international recycling revolution.
Born in rural Oklahoma on February 13, 1923, Zantow moved to Wisconsin in the 1960s after marrying Forrest "Woody" Zantow. During a 1978 tour of Japan as the first volunteer administrator for the International Crane Foundation of Baraboo, Zantow noticed how residents sorted their waste materials each day. That inspired her to develop the project that would cement her environmental legacy in Wisconsin.
Zantow became determined to make plastic recycling possible, researching the different kinds of plastic and how to identify them, and convincing manufacturers of the value of using recycled plastic. By 1979, Zantow and her friend Jenny Ehl had cashed in their life insurance policies to purchase a commercial plastics grinder and open E-Z Recycling Center near Reedsburg. Her recycling methods were adopted by the Environmental Protection Agency, and the numbering system she subsequently developed became the worldwide industry standard when the Society of the Plastics Industry adopted it in 1988. She also helped write Wisconsin's first mandatory state recycling law which was passed in 1990.
Zantow died in 2014 at age 91, leaving the world an inspiring legacy including her favorite saying, "Waste is not waste until it is wasted." In 2017, Zantow was posthumously inducted into the Wisconsin Conservation Hall of Fame for her visionary work in the recycling industry.
Sources: Plastics One Through Seven YouTube video produced by University of Wisconsin Extension | Milly Zantow, Wisconsin Biographies on PBS | Baraboo recycling pioneer Milly Zantow dies, Wisconsin State Journal | Around Town: Area recycling pioneer subject of new book, Wisconsin State Journal | Zantow inducted into state Conservation Hall of Fame, Sauk Prairie Eagle