Feature Story
Marin Webster Denning
Celebrating Wisconsin Visionaries, Changemakers and Storytellers
Harnessing the Power of Story for Change
Storyteller | Marin Webster Denning (Naadawe Banaise) Oneida | 1961 - Present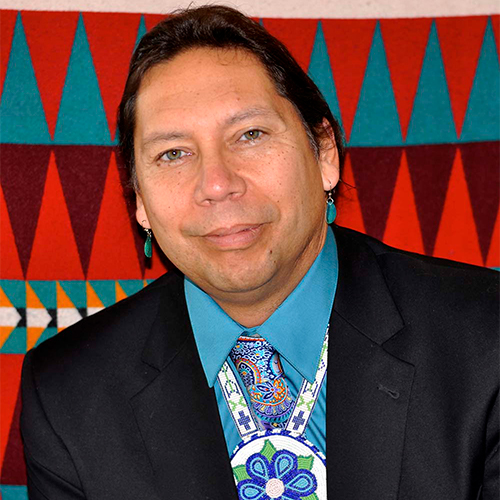 Marin Denning Headshot - Courtesy of Marin Webster Denning
Marin Webster Denning, Sturgeon Clan, among many things, is a storyteller, community advocate, and father, nationally recognized as a leading educator and specialist in American Indian history and culture.
An enrolled member of the Oneida Nation of Wisconsin, Denning, whose Anishinaabe name is Naadawe Banaise, helps others build constructive understanding in order to foster deeper connections across differences among people and communities. With a bit of humor and skillful tact, Denning successfully employs the art of storytelling as a mechanism to break down barriers and advocate on behalf of Native people and communities, charting a path forward by fearlessly examining the past.
A staple among Milwaukee, which has the greatest concentration and population of Native people in the state of Wisconsin, Denning is known for his community advocacy work on behalf of Native people and is the former Executive Director of Southeastern Oneida Tribal Services (SEOTS). Born on the Menominee reservation in 1961, Denning moved to Milwaukee in 1968 and regularly traveled back and forth, spending summers on the reservation. Denning, who is a lecturer at University of Wisconsin-Milwaukee, has ancestry that also includes Menominee, Mill Lacs Ojibwe, Lenape, Delaware, Stockbridge-Munsee, French, and English.
Denning uses storytelling as a needle to thread the historical relevance required to understand and confront the insidious, ongoing effects of historical trauma and the legacy of colonization. At its heart, Denning's work calls upon increasing public awareness through education, placing historical context at the center of understanding issues that persist among Native people today.
By thoughtfully engaging others through his perspective as a Native person—only one of many—and placing a spotlight on the past, Denning harnesses his power as a storyteller to help others confront and learn about difficult topics that are often not well taught or understood in history to raise awareness to build a better future.
*This story was written by Rebecca H. Comfort Keweenaw Bay Indian Community, American Indian Nations Liaison, Wisconsin Historical Society