Feature Story
Miriam Frink & Charlotte Partridge
Celebrating Wisconsin Visionaries, Changemakers, and Storytellers
< Back to 175 < Back to LGBTQ+ History
Partners Paved the Way for Art Education in Milwaukee
Visionaries | Miriam Frink & Charlotte Partridge | 1892-1977 & 1881-1975 (respectively)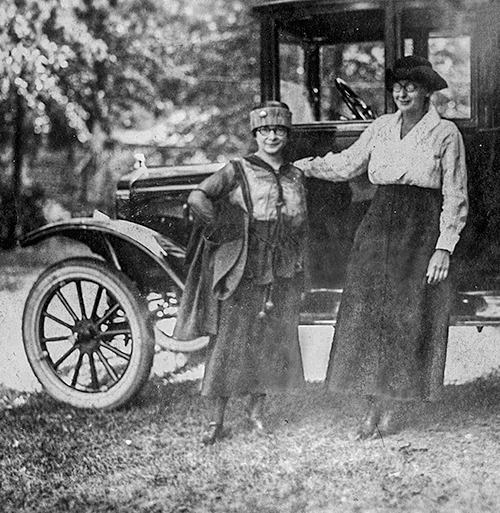 Miriam Frink and Charlotte Partridge got to know each while on staff at Downer College in Milwaukee, Wisconsin. The women later co-directed the Layton School, predecessor of the Milwaukee Institute of Art and Design. Courtesy of UW–Milwaukee Archives
Charlotte Partridge and Miriam Frink were visionaries whose work establishing and running the Layton School of Art in Milwaukee furthered art education in Wisconsin and fostered the early careers of many studio artists.
Charlotte Partridge was born in 1881 in Minneapolis, Minnesota. She attended Dana Hall, a college preparatory school in Massachusetts, before returning to the Midwest. Partridge graduated from Northern Illinois Teachers College in 1905, after which she took on various teaching positions. Her interest in art led her to study at the progressive Chicago School of Applied and Normal Art. In 1914, Partridge was hired as an art faculty member at Downer College in Milwaukee where she earned a reputation for steering the art program away from the stiff academic style that was dominant at the time. A proponent of modern art, she later became head of the school's fine arts department.
Miriam Frink, a native of Elkhart, Indiana, was born in in 1892. She attended Downer College in her freshman and sophomore years, then transferred to Smith College. After graduation, Frink was offered a position teaching English at Downer and returned to Milwaukee in 1915. Like Partridge, Frink lived in a room on campus, which was part of her compensation.
Mutual interests in art and music fostered a friendship between Partridge and Frink at Downer, and by 1921 they had taken up a domestic relationship and rented an apartment together. The couple would live together for more than fifty years, until Partridge moved into assisted living.
When Partridge was asked to take over her alma mater in Chicago, she instead bought the school's equipment, moved it to Milwaukee, and in 1920 started her own art school in the basement of the Layton Art Gallery. Frink served as the co-director and looked after the business side of things in addition to teaching literature. Partridge taught art classes and supervised the faculty. During the Great Depression, they opted to forgo their salaries to continue to run the school. From 1935 to 1939, Partridge directed the Wisconsin Federal Art Project, a project of President Roosevelt's Works Project Administration that supported the arts.
By 1951, the Layton School had 1,100 students and its own building. In 1954, the board of trustees "retired" both Partridge and Frink; the record is silent as to whether this occurred because the women were lesbians or simply as a result of the new director's ambitions. Unfortunately, the school experienced financial difficulties and closed in 1974. Its successor, the Milwaukee Institute of Art and Design, was founded by former Layton faculty and students.
At a time when it was difficult for women to assume leadership roles in most fields, Charlotte Partridge and Miriam Frink defied the odds. They are remembered for their visionary work advancing art education in Wisconsin.
*This story was adapted from the Wisconsin Historical Society Press books "Coming Out, Moving Forward," by R. Richard Wagner, available here.