Feature Story
Ralph Warner
Celebrating Wisconsin Visionaries, Changemakers, and Storytellers
< Back to 175 < Back to LGBTQ+ History
Antiquarian Preserves Small Town History in Wisconsin
Visionary | Ralph Warner | 1875 - 1941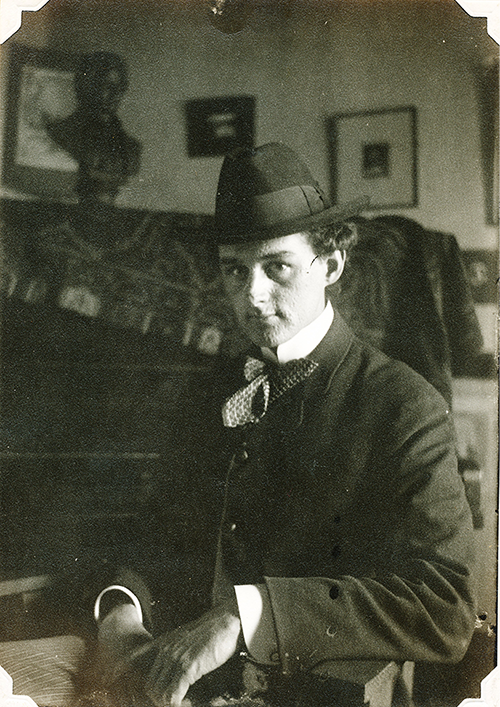 Ralph Warner brought vision and passion to the historic preservation of his house in Cooksville, Wisconsin. Warner's "House Next Door" captured the attention of local and national media. Photo Courtesy of Cooksville Archives and Collections
Ralph Lorenzo Warner was a visionary whose approach to historic preservation helped stimulate an appreciation for early American antiques in his Cooksville, Wisconsin, community and beyond. Born in 1875, Warner grew up in Milwaukee and was the son of a locomotive engineer. Later, he moved to Racine where he met and befriended a teacher named Susan Porter who was a native of Cooksville. Warner visited Porter in her hometown during the summer of 1911 and was charmed by the small community.
Warner went on to purchase the two-story red brick house next to Porter's in the same year as his initial visit. He threw himself into preserving and restoring the property and filled the house with high-quality antiques, earning recognition in the region and across the nation. The property Warner dubbed the "House Next Door" was featured in a range of popular magazines including House Beautiful, Wisconsin State Journal, and the Ladies' Home Journal. Although some of the media's stories painted Warner as a recluse, he was actually quite social and enjoyed traveling and going to the theater and to dinner parties. He also entertained guests in his home, offering them tea and telling stories of the history of Cooksville and his home.
Warner lived during a time when society was not accepting of LGBTQ+ people, and it was unusual for individuals to be open about their sexual orientation. Although many of the publications that covered his story hinted at Warner's queerness—using terms like "artistic" and "eccentric" to describe him—he was not out in the modern sense of the term. Still, he created a public persona based around non-normative gender behavior. Later in life, he became a friend and mentor to Neal Hellum, who together with his life partner, Bob Neal, restored the buildings that now make up Pendarvis Historic Site.
Warner was a unique voice in the historic preservation field, and his visionary approach to appreciating and sharing history earned him a reputation as one of the country's leading authorities on antiques. In addition to sharing the House Next Door with the world, he set the stage for future generations of the LGBTQ+ community to live proud and open lives.
*This story was adapted from the Wisconsin Historical Society Press books "Coming Out, Moving Forward," by R. Richard Wagner, available here, and "We Will Always Be Here," by Jenny Kalvaitis and Kristen Whitson, available here.