Feature Story
Lou Ringling
Celebrating Wisconsin Visionaries, Changemakers and Storytellers
The woman behind the "Greatest Show on Earth"
Changemaker | Lou Ringling | 1851 - 1941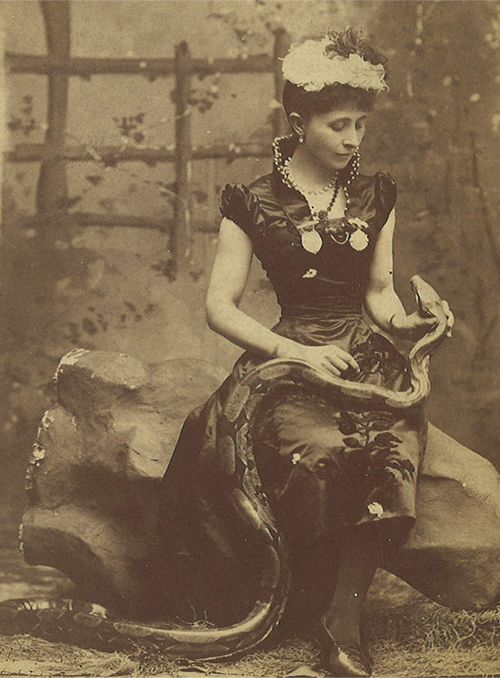 Lou Ringling supported the Ringling Bros. Circus in many ways throughout the early years of the show. Although she was reportedly not fond of snakes, this included taking on the role of snake charmer. - Courtesy of Circus World Museum (CWi 1875)
Eliza "Lou" Ringling was an independent woman and changemaker who helped transform Ringling Bros. Circus from humble beginnings into the "Greatest Show on Earth."
Associated with the Ringling Bros. Circus from its earliest days, Lou married eldest brother Al Ringling just months before the circus was formed. Lou made many contributions in the formative years of the circus. While she performed as a snake charmer and equestrian, she also drove wagons and took on other tasks needed to keep the show moving from town to town.
Lou took on management of the circus' wardrobe, sewing and patching costumes herself during the early years, and later designing hundreds of costumes and leading an entire staff of seamstresses responsible for construction and repair. Lou also took female performers under her wing and shared knowledge to help them succeed.
Many people, including Al Ringling himself, gave Lou a great deal of credit for the success of the Ringling Bros. Circus. She accomplished whatever task was put before her, whether it was behind the scenes or in the middle of the performance ring.
While Lou stepped away from the daily rigors of the circus as she aged, her independent nature persisted. She invested in real estate after her husband's death in 1916, including developments on Mirror Lake with rental cottages and a modern hotel. She died in 1941 at her home in Baraboo.
In the late 19th century, employment opportunities for women were limited. The circus was the most popular form of entertainment at the time, and was one of few places where women could find opportunities, independence, freedom, and better financial equality. For female spectators, performers and changemakers like Lou Ringling were an example of what could be, and helped promote positive change as women fought for equal rights.
Learn More: