Feature Story
Liz Fentress
Celebrating Wisconsin Visionaries, Changemakers and Storytellers
From Ringmistress to Playwright
Storyteller | Liz Fentress | 1952 - Present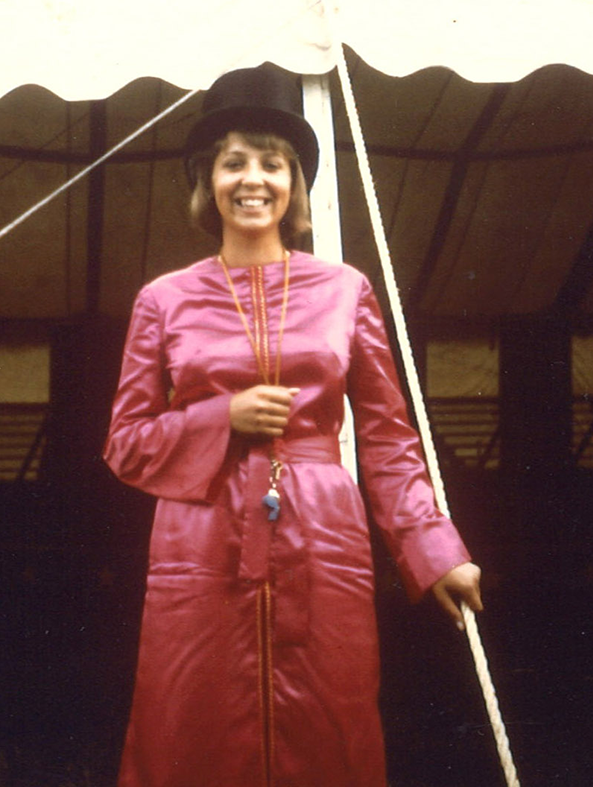 Liz Fentress was the first ringmistress of the newly formed Franzen Bros. Circus in 1974. Known to audiences as Miss Elizabeth, this image shows her in costume by the circus tent. - courtesy of Circus World Museum
As a storyteller, Elizabeth "Liz" Fentress has shown her vast talents in all corners of the entertainment industry, including as a producer, actor, director, and playwright in professional and community theater.
Born and raised in northern Wisconsin, Fentress wrote her first plays in fifth and sixth grades, establishing a love for the theater that continues today. Fentress graduated from the University of Wisconsin-Madison with a theater degree. Soon after, she accepted a position with the newly formed Franzen Bros. Circus based out of Amherst Junction, Wisconsin, in 1974. Owner Wayne Franzen hired "Miss Elizabeth," as she was known to audiences, to be the ringmistress, organist, and puppet show performer. Fentress went into the position knowing very little about the circus but soon learned about the daily trials faced by small circuses as well as the triumphs experienced when they put on a successful show.
Her experience as Miss Elizabeth profoundly affected Fentress and inspired her to write "Liz's Circus Story." This play, a one-woman show about her life, tells the story of how Fentress joined the circus and pursued her dream of working in the theater. Fentress adapted the play for Kentucky Education Television (KET), focusing on the impact the owner of the circus had on her life. The program won an award from the National Educational Telecommunications Association for "Best Dramatic Narrative."
According to Fentress, the message of the play is, "Believe in yourself. What is it you want to do? Do whatever it takes to achieve it, overcome all the obstacles, and get as much out of your life as you can. Have faith in life's possibilities."
Fentress had a successful career in Kentucky for many decades. Today, she continues her work as a storyteller in Bayfield, Wisconsin, sharing her talents as a playwright and theater professional.
Learn More: