Feature Story
Mai Zong Vue
Celebrating Wisconsin Visionaries, Changemakers and Storytellers
Telling stories while creating her own
Storyteller | Mai Zong Vue | 1965 - Present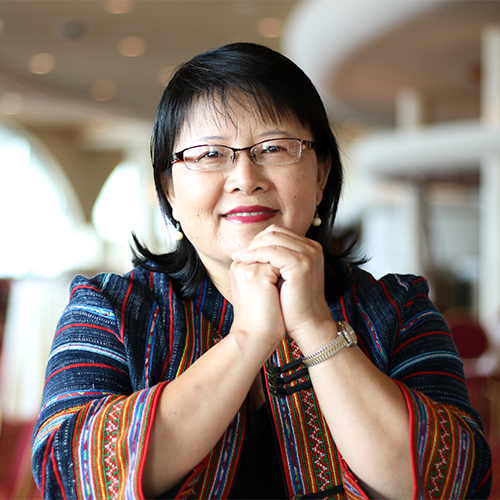 Mai Zong Vue, a cultural trainer and folklore performer, helps tell the stories of Wisconsin's vibrant Hmong community. - Wisconsin Historical Society Press
Mai Zong Vue is a storyteller whose work as an author, cultural trainer, and folklore performer in Hmong poetry has helped tell the overlooked stories of Wisconsin's vibrant Hmong community. Her impact on the community reaches back decades and goes well beyond the stories she shares.
Born in the middle of the Secret War in Laos, Mai Zong Vue left with her family for Thailand in May 1975 as the Communists took over the Lao government. After spending almost five years in refugee camps, in 1980 she arrived with her family in Illinois with the help of a church sponsor. She later relocated to Wisconsin to join her oldest sister's family. As the first in her family to graduate from college, Mai Zong Vue received her undergraduate degree from Lakeland College and her master's degree from UW–Madison in 1997.
In her 20-plus years with the Wisconsin State Refugee Office, Mai Zong Vue was the Refugee Program Specialist, where she developed the Refugee Family Strengthening Program to address domestic abuse. Her advocacy and grassroots activism contributed to the development of nonprofit agencies in Wisconsin and Georgia to provide human services to Hmong and refugee women. Her contributions include:
women's empowerment and leadership training for refugee women
the creation of a Hmong Studies position at UW–Madison
She has received several honors for her efforts in serving communities in need, including the YWCA of Dane County's Women of Distinction Leadership Award, Authentic Hmong Leaders, and International Women's Day Trailblazer.
In her book "Hmong in Wisconsin," published by the Wisconsin Historical Society Press, Vue combines scholarly research, interviews, and personal experience to share the Hmong's varied stories of survival and hope as they have become an important part of Wisconsin communities.
This amazing storyteller – and so much more – continues to serve the Hmong in Wisconsin in different capacities. She works for the Wisconsin Department of Health Services and enjoys spending time with her children. Mai Zong Vue also spends free time working as a community advocate, an educator on Hmong culture, and a folklore performer.