Feature Story
Kashoua Kristy Yang
Celebrating Wisconsin Visionaries, Changemakers and Storytellers
Bringing new perspectives to the courtroom
Changemaker | Kashoua Kristy Yang | 1980 - Present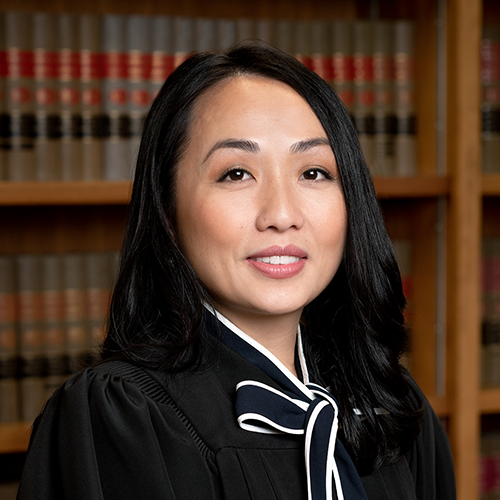 Kristy Yang is America's first Hmong American judge. She has dedicated her career to helping people in underserved communities obtain equal access to legal services. - Photo courtesy of Milwaukee County Circuit Court
Kashoua Kristy Yang is a changemaker who has dedicated her career to helping people in underserved communities obtain equal access to legal services. Yang is also the country's first elected Hmong judge.
Yang's family is originally from Laos, but like many Hmong refugees, they were forced to flee after the end of the Vietnam War and Laotian Civil War. Yang was born in a refugee camp in Thailand. While her memories of the camp are mostly pleasant, as it is all she knew, Yang remembered feeling like an outsider in Thailand. This perspective inspired her desire to help others feeling ostracized and underrepresented.
At the age of six, Yang and her family moved to Sheboygan. Her parents worked in factories to support their 11 children. When they arrived in the United States, no one in the family spoke English, and they continued to encounter bigotry and discrimination in a society that was very different from the one they left. Like many Hmong children, Yang struggled with the desire to be accepted in America while maintaining her Hmong culture.
Education was very important for Yang, who graduated with a bachelor's degree in computer science from Lakeland University in 2003. She worked as a systems analyst for the Kohler Company for three years before a family member's experience with a car accident caused her to rethink her career path. Her brother was injured in the accident, and Yang saw how difficult it was for her family and other people with financial and language barriers to navigate the health care and legal systems. Inspired to help, Yang enrolled in law school at UW-Madison in 2006, and graduated in 2009.
As an attorney, Yang was dedicated to helping others, focusing on family law, worker's compensation, social security, and disability law. In 2017, after eight years as a lawyer, she was elected to the Milwaukee County Circuit Court on a six-year term. She is the nation's first elected judge of Hmong descent and Wisconsin's first elected Asian American judge.
A changemaker whose unwavering commitment to help the disenfranchised has had a major impact in her communities, Kristy Yang continues to fight for others from behind the bench.