Feature Story
Madelyn Davis
Celebrating Wisconsin Visionaries, Changemakers, and Storytellers
Inspired to protect our planet
Future changemaker | Madelyn Davis | 17-years-old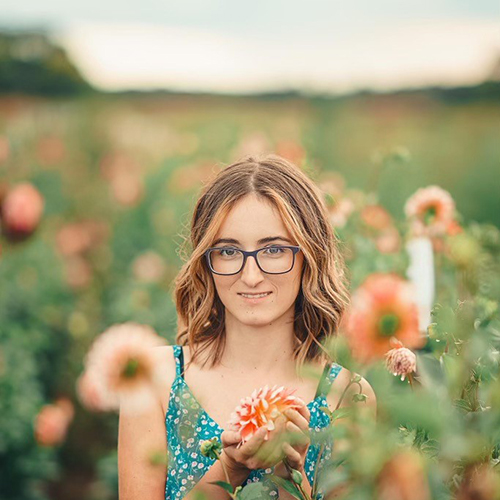 Madelyn Davis is a 17-year-old student from Eau Claire, Wisconsin.
I describe myself as an art lover, thrifter with my sister, burrito roller at Chipotle, and an Earth protector.
This year, I am a member of the environmental club. Right now, we are brainstorming ideas on how we can make our school more environmentally friendly like adding more trash cans to the school parking lot or advocating for meatless Mondays. One of the many reasons why I joined this club was because of Greta Thunberg. Her courage to stand up to our leaders to advocate for climate change has inspired me. When Greta was 11 years old, she learned about how the planet is dying.
She was mad that none of our top leaders were doing anything about it. She wanted to do something about it. She started to advocate for climate change by planning a strike called "Future of Friday" where she would sit in protest outside of her school. Students would join her by skipping school every Friday. Every strike she did, more and more students joined. She brought this fight to a national level. I remember a lot of people from my high school participated in her strike. With Greta creating this strike, millions of students started to get involved in fighting for climate change. It was the largest climate strike in history with over 4 million students partaking. Still today, Greta is taking the lead on climate strikes all across the world. Her impact on climate change will forever impact me and my generation.
My grandma has always been fascinated with history and would often tell stories about her experience and knowledge of history. I remember her talking about the Russian Chernobyl plant that had a nuclear meltdown on April 25, 1986. My grandma was teaching at the local school when she heard about the explosion. The eruption killed 28 people out of 600 people and many of the people that are still living today have underlying health problems from the radiation. They established a 19-mile evacuation zone too.
"Up until that time, I wasn't aware of the dangers of nuclear power plants. With this explosion, it began the debate on nuclear power," my grandma said. After the incident, she realized that we do not have a lot of control over our environment and wondered what global effects that meltdown would have on the environment. "I never thought about the environment until after that. We treat the earth as a trash can. We still treat the earth in that way today, hasn't changed."
I will forever look up to these people by their stories that they tell like the courage it took for Greta to sit outside of her school for our leaders to take change or my grandma telling me the impact of how the Chernobyl plant affected her and the world. My hope is to inspire younger generations through my involvement and pledge to help to keep protecting our planet.