Classroom Material
Thinking Like a Historian
Free classroom poster
Enlarge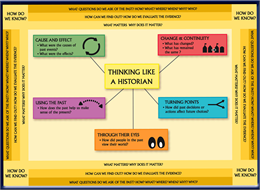 'Thinking Like a Historian' Poster
This poster will provide your students with a new way of looking at the past. It will guide your students to ask the same questions that historians do: What matters? Why does it matter? How do we know?
"Thinking Like A Historian" is the framework for the fourth grade history textbook, Wisconsin: Our State, Our Story.
This framework is laid out for educators in the book Thinking Like a Historian: Rethinking History and Instruction, published by the Wisconsin Historical Society Press. With practical examples, engaging and effective lessons, and classroom activities that tie to essential questions, the book provides a framework to enhance and improve teaching and learning history.
Click here to purchase the book.
This free, downloadable poster distills the framework's principles for young people by highlighting thoughtful questions that can help students learn to think like historians. Questions focus on cause and effect, change and continuity, using the past, turning points and through their eyes. Download the poster and display it in your classroom today!