Historical Essay
Peshtigo Fire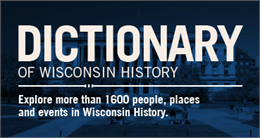 On the night of Oct. 8-9, 1871, this fire destroyed in two hours a swath of forest 10 miles wide and 40 miles long and obliterated the towns of Peshtigo and Brussels, killing about 1,500 people.
In all, the fire burned more than 280,000 acres in Oconto, Marinette, Shawano, Brown, Kewaunee, Door, Manitowoc and Outagamie counties. The human toll was 1,152 known dead and another 350 believed dead. Another 1,500 were seriously injured and at least 3,000 made homeless. The property loss was estimated conservatively at $5,000,000 and this did not include 2,000,000 valuable trees and saplings and scores of animals.
Worst hit was the town of Peshtigo and the surrounding territory. The area had been undergoing an unparalleled drought. The citizens of Peshtigo had become used to the smell of ashes and thought nothing amiss when they retired on the night of October 8, 1871. Suddenly "all hell rode into town on the back of a wind." Many rushed toward the river, some took refuge in basements. 75 persons who remained in a boarding house perished. A considerable portion of the survivors were huddled in a low, marshy piece of ground on the east side of the river. The number of dead in the blaze in the town of Peshtigo has been variously estimated at from 500 to 800. Only two buildings still stood after the fire, and the newspapers of the day wondered how some persons came through the disaster while others were burned to ashes within ten feet of them, or how the heavy iron fire engine could be melted without scorching the paint on wood two feet away. The fire also threatened the towns of Menominee, Mich., and Marinette, Wis., and licked at the outskirts of Green Bay. In Door County, 128 lives were lost.
View articles in the Wisconsin Magazine of History, vol. 11 no. 1 (1927): 96-106. The most vivid personal account is that of Rev. Peter Pernin, who survived the blaze; the best edition is that in the Wisconsin Magazine of History, vol 54 no. 4 (1971): 246-272. Other eyewitness accounts are available at our digital collection, Turning Points in Wisconsin History.
Wyman, Mark. The Wisconsin Frontier (Bloomington: Indiana University Press, 1998); WHS library reference file prepared by Margaret Gleason; sources cited above.
Learn More
See more images, essays, newspapers and records about the Peshtigo Fire.

Dictionary of Wisconsin History
Explore more than 1,600 people, places and events in Wisconsin history.