Historical Essay
Development of a Public Education System in Wisconsin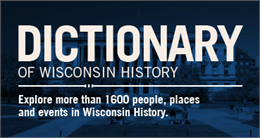 Before there were any public schools in Wisconsin, groups of parents often hired someone to teach their children several hours a day for several months a year. The earliest known example of that in Wisconsin was in 1791.
Several mission schools for Indian tribes were established in Wisconsin during the early 19th century. The first appears to have opened in Green Bay in 1822.
The earliest known example of a community-supported school was at Kaukauna in 1828, where the community voluntarily pooled funds to support teacher Electa Quinney.
After Wisconsin became a territory in 1836, lawmakers passed legislation requiring every township with more than 10 families to fund a school. Many local residents simply ignored it, however, and public funding was a controversial issue for the next decade or more. Still, a handful of schools did spring into existence after the law passed. The first appears to have been in Milwaukee, "kept by a Mr. West in the fall of 1836 in a framed school house still standing [in 1869] in the 2nd ward of the city and now [1869] known as no. 371 Third Street."
Although that school was tax-supported, it was not authorized by the legislature, leading historian Joseph Schaeffer to claim that it could not qualify as the first public school. He argued in 1925 that this claim belonged to Kenosha, which open a state-authorized and tax-supported school in 1845. His article give details about both the Milwaukee and the Kenosha schools.
Depending on how one defines "school," the first one could thereore have been in Green Bay in 1791 (parent funded), Green Bay in 1822 (church funded Indian mission school), Kaukauna in 1828 (funded voluntarily by the community), Milwaukee in 1836 (tax-funded but unauthorized), or Kenosha in 1845 (tax-funded and authorized by the legislature).
View more information in "The Origins of Public Education in Wisconsin" by Lloyd Jorgenson, who concluded that, "there were in the Territory when it was organized in 1836, some twelve or fifteen schools with an enrollment of possibly 500 students. In 1849, the first full year under the constitution, there were 32,000 pupils in the public schools. But there is nowhere to be found in any historical account any information as to the number of schools established during the intervening years or as to the manner of their support."
Learn More
See more images, essays, newspapers and records about the public education system in Wisconsin.

Dictionary of Wisconsin History
Explore more than 1,600 people, places and events in Wisconsin history.