Resource Description
American Indian Language Materials
Enlarge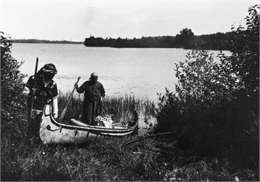 Native Americans Launch a New Canoe
Two Indian men launch a new canoe, possibly on Flambeau Lake. View the original source document: WHI 41463
Last fall a university professor of Ojibwe inquired if the Society owned the 1853 edition of Bishop Frederic Baraga's dictionary of that language. After more than 150 years, this very rare book remains an important resource for people studying Ojibwe. When he learned that we do possess a copy, he suggested that we put it on the Web, where scholars could find it more easily. His request prompted the library staff to research historical works in American Indian languages among the Society's library and archives collections. By sharing these books and manuscripts on the Web, they hoped to not only serve academic specialists, but also to support the staff and students working in tribal language revitalization programs in Indian communities.
Over the winter, incoming University of Wisconsin-Madison graduate student Omar Poler scoured the rare book and manuscripts collections for suitable material. He turned up more than a dozen early works in or about Native American languages spoken by tribes living in Wisconsin. Then he and other staff carefully scanned and published them online at Turning Points in Wisconsin History. Some were rare and fragile documents dating back to the 18th and early 19th centuries. Others were modern scholarly works whose copyright holders generously permitted the Society to share them online.
Here are some of the rare American Indian language materials that have just been made available to scholars and tribal communities for the first time on the Society's website. To see them all, go to Turning Points in Wisconsin History and enter "American Indian languages" in its search box.
Ho-Chunk Language
Manuscript Ho-Chunk Language Vocabularies, 1830-1930.
"Winnebago Dictionary." Henry Merrell (1804-1876), a fur trader at Portage, created this list in the 1830s for his personal use.
"Winnebago Words Furnished by Oliver La Mere." La Mere (1879-1930), a leader among the Nebraska Winnebago, provided this five-page vocabulary to Society museum director Charles E. Brown in 1915.
"Winnebago Indian Place Names obtained by Dr. Alphonse Gerend from Chief George Monegaar..." Monegar (dates unknown) was a Ho-Chunk chief who lived at Hemlock Creek, Wood County, Wisconsin, when this list was collected in 1930.
Vocabulary of the Winnebago Indians, 1880. Thomas George (1842-1929) consulted his Ho-Chunk friends Big Bear, of Friendship, Wisconsin, and Big Thunder to compile this hand-written, 70-page list using forms provided by John Wesley Powell of the Smithsonian Institution.
Menominee Language
Menomini Lexicon. This modern dictionary of Menominee was compiled by linguist Leonard Bloomfield (1887-1949), who spent the summers of 1920 and 1921 doing field work in Wisconsin. We are able to publish it online through the generosity of the copyright holder, the Milwaukee Public Museum, which originally published it in 1975.
Ojibwe Language
A Dictionary of the Otchipwe Language... The Rev. Frederic Baraga (1797-1868) was a Roman Catholic priest who served Indian communites from La Pointe, Wisconsin, to L'Anse, Michigan, from 1835 until his death. The manuscript was the result of several years of careful work and was nearly lost in March 1853 when, en route to Detroit to have it printed, Baraga and his sleigh plunged through the ice of Green Bay.
Mohican Language
Observations on the Language of the Muhhekaneew Indians... (London: W. Justins, 1789). The author of this short work, Jonathan Edwards (1745-1801), grew up in the Indian community of Stockbridge, Massachusetts, where his father was a missionary. It is not just an early, firsthand account of the language originally spoken by the ancestors of today's Stockbridge Indians, but also the first attempt to classify Native American languages into families.
The Assembly's Shorter Catechism. (Stockbridge, Massachusetts: 1818). This short textbook contains more than 100 questions and answers about religious topics intended for the use of children. This translation into Mohican was made by Stockbridge Indian sachems John W. Quinney (1787-1855) and Capt. Hendrick Aupaumut (c. 1757-1829), who were leaders of the Stockbridge Indians' move to Wisconsin.
Potawatomi Language
Manuscript Potawatomi Language Vocabularies, 1920-1932.
"Prairie Potawatomi Words Furnished by Daniel D. Shepard [1929]." Shepard (dates unknown) provided much Potawatomi information to Charles E. Brown, the Society museum's director, in the 1920s and '30s, including this 15-page list.
"Potawatomi Names." Shepard also provided this list of Wisconsin place names in 1932.
"Prairie Potawatomi Words Collected by Alanson Skinner." Anthropologist Skinner (1885-1925) worked for the Milwaukee Public Museum (1920-1924). He provided this four-page list of words to Society museum director Charles E. Brown in the early 1920s.
Oneida Language
"Prayers for Families and for Particular Persons": Selected from the "Book of Common Prayer", translated into the Language of the Six Nations of Indians by Eleazer Williams (Albany, New York: Printed by G.J. Loomis, 1816). Eleazer Williams (1788-1858) was a lay preacher who helped the Oneida, Brothertown, and Stockbridge Indians emigrate to Wisconsin after the War of 1812.
"Gaiatonsera Ionteweienstakwa, Ongwe Onwe Gawennontakon" A Spelling Book in the Language of the Seven Iroquois Nations (Utica : William Williams, 1820). This is a primer designed to instruct Indian students how to write their language in Roman and italic script, while also teaching them simple religious lessons in Oneida.
Researchers should note that these are historical documents rather than modern ones, and that most were produced by white observers rather than native speakers. Students wishing to learn any American Indian language should consult the appropriate tribal language office.