Historical Essay
Charles W. Nash and the Nash Motor Company
Enlarge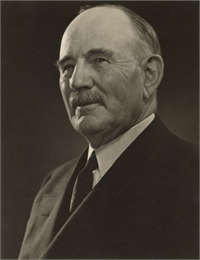 Charles W. Nash
Charles W. Nash, president of Buick, (1910-1912), head of General Motors (1912-1916) and founder of Nash Motors of Kenosha, Wisconsin, (1916-1936), a man sometimes referred to as the "great independent" of the automobile manufacturers. View the original source document: WHI 40846
Enlarge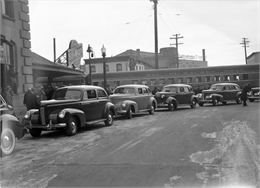 Nash cars at Governor Julius P. Heil's Inauguration, 1939
Four Nash automobiles at Chicago & Northwestern Railroad Station. View the original source document: WHI 14555
Although Detroit is known today as the hub of the American auto industry, Wisconsin — the Milwaukee area in particular — has been home to more than 80 different makers of cars and trucks over the last 100 years. And one of the most successful manufacturers was Charles W. Nash, whose mid-priced cars appealed to decades of middle class buyers.
Nash Motor Company
Nash founded the Nash Motor Company in 1916 after purchasing the Kenosha-based Thomas B. Jeffery Company. The Jeffery Company, best known for its "Ramblers," had begun life as a bicycle company in Chicago but, after a move to Kenosha, the company saw the coming tide and switched to producing automobiles. After the Jeffery family sold the company, the first Nash automobile rolled out of Kenosha's Rambler plant in 1917.
Pledging to "Give the customer more than he has paid for," Nash built branch plants in Milwaukee, Racine, and Pine Bluff, Arkansas. During World War I, Nash negotiated a contract with the U.S. Army that made the Nash Motor Company one of the largest producers of trucks in the nation. By 1926 the Nash automobile was one of the nation's top selling makes of cars.
Nash soon began acquiring other Wisconsin car companies, including the Mitchell Motors Company of Racine in 1923 and LaFayette Motors of Milwaukee in 1924, many of which began producing new automobile lines for the company. A Nash automobile even became the official state car for Governor Julius P. Heil. The company introduced its top-of-the-line Ambassador models in 1932. Earning the nickname the "Kenosha Duesenburgs" for their quality, Nash Ambassador automobiles were produced by Nash until 1957. In 1958, Democratic candidate for lieutenant governor Philleo Nash, capitalizing on the car's name, used a Philleo Nash Rambler on the campaign trail.
Notable Wisconsin Automakers
Nash was not Wisconsin's only well-known automaker. In Hartford, hardware dealer Louis Kissel moved into automobile production in 1906, producing one of Wisconsin's most prized custom automobiles. Famous for its name, design and performance, the Kissel Kar cost $1,850 — a costly car for the time, made even more so by the fact that that price did not include the windshield, generator, gas lamps or horn. The Kissel Motor Company also produced taxis and trucks during World War I. Kissel, like so many firms, did not survive the Depression and ended production in 1931.
In the second half of the 20th century, Wisconsin's auto industry was dominated by American Motors (created from a merger involving Nash), with plants in Kenosha and Milwaukee, and General Motors, whose plants in Janesville were among Wisconsin's largest industrial employers. Automobiles from companies like Nash and Kissel played a major part in the growth of Wisconsin's economy, creating jobs, spurring tourism, and transforming daily life.
Learn More