Historical Essay
Harry Dankoler - Image Gallery Essay
Avid Amateur Photographer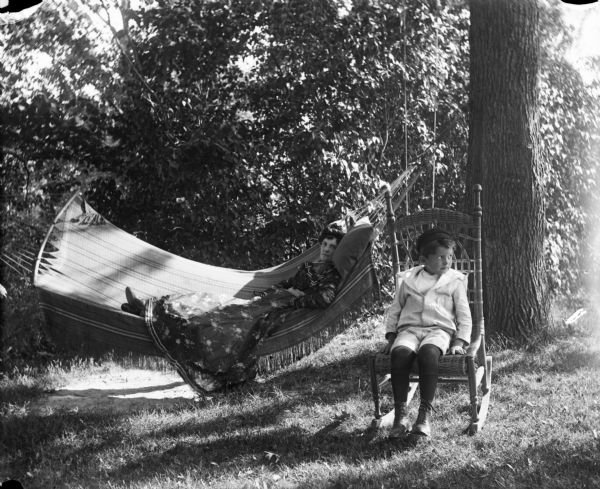 Summer Relaxation, 1901
Sturgeon Bay, Wisconsin. View the original source document: WHI 7893
Harry Dankoler was an avid amateur photographer who thoroughly documented many of his exploits during the decades before and after the turn of the 20th century. Unbeknownst to Dankoler, these images would become lasting documentation of the youth of Sylvester, his only child who would die from kidney failure in December 1907, only a few short days before what would have been his 12th birthday. Sadly, only weeks after the death of his only child, his wife also died. Presented lovingly in this collection are some of Syl's Christmas mornings, family gatherings around the piano and, among many other scenarios, numerous trips to Milwaukee to visit historical monuments, lakes and parks. This section of the collection presents a sad story of a loving father who lost a promising and beloved son all too soon.
Early Experiments in Photo Manipulation
Starting in 1898, Dankoler was one of the early experimenters, possibly a pioneer, of the technique of shooting photographs of actors in front of a screen backdrop and then having an artist illustrate the background to be used in any number of published formats, but most likely narrative works. Within this collection we find many of the unpublished images taken by Dankoler showing groups of people posed in various scenarios, a few of which seem to defy reasonable explanation.
A Chapter of the Collection Documents Gold-Mining Operation
Not long after the turn of the 20th century, Dankoler became deeply involved with a gold-prospecting opportunity with a friend of his in Wyoming, going so far as to become the operation's secretary. This investment would sadly also end in failure, turning no profit for either Dankoler or any of his fellow investors. Dankoler's loss, though, is our gain since he brought his camera along for the trip he took with some fellow investors to visit the logging and mining operation. In the images we are able to see much of the inner workings of the mining operation, from the more technical aspects including the sawmill and the building of cabins to the more mundane images presented of mining men sitting around a table listening to a small record player and another where freshly butchered lambs are being prepared for a meal.
The Life and Times of Harry Dankoler
Harry Edward Dankoler was born in Sturgeon Bay in 1863. At the age of 16 he began work as a printer's apprentice, starting a long and prolific career in printing and editing. From 1883 to 1884 he was co-publisher of the Calumet County News at Chilton. In 1884 he moved to Milwaukee, where he was editor of the Milwaukee Saturday Star from 1889 to 1894. After its merger with Peck's Sun, Dankoler edited Peck's Sun and Saturday Star from 1894 to 1900 and its affiliate the Milwaukee Daily Record from 1895 to 1897. In his later years he devoted his time to promoting the creation of the Door County Historical Museum, established in Sturgeon Bay in 1939 primarily through his efforts.
Harry E. Dankoler died in 1955, decades after these images were taken, but he left behind a wonderful body of work and a tremendous number of people who cared about and deeply respected him. He spent his later years living a life of self-imposed solitude at Sylvan Lodge in his beloved Sturgeon Bay. There he helped create and maintain the Door County history museum, wrote an interesting book expounding a theory regarding the Ice Age, as well as reams of personal letters to the numerous confidants he held so dear.
View the Gallery
View All Images in the Dankoler Collection
Browse the Images