General Information
Wisconsin Historic Preservation and Archaeology Month
May is Historic Preservation Month and Archaeology Month in Wisconsin when we celebrate the preservation of historic places that help us understand our past. Each year, we release original posters and bookmarks featuring interesting historic places in Wisconsin.
Submit your Local Event to our Calendar
The Wisconsin Historical Society promotes community events that meet our criteria for promoting historic places during Historic Preservation and Archaeology Month. You may submit your event to our calendar through our online form.
2023 Historic Preservation and Archaeology Month Posters and Bookmarks
Toft Point Lime Kiln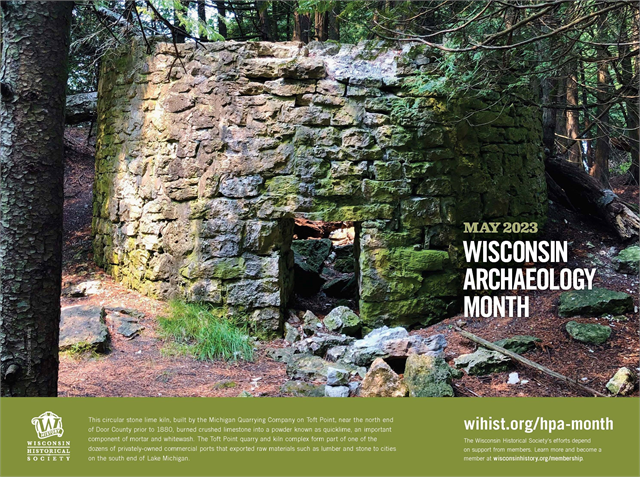 Photograph by Dean Wittter.
The 2023 Archaeology Month Poster features the Toft Point lime kiln located on Toft Point, near the northern tip of Wisconsin's Door Peninsula. The kiln is one of the most intact examples of a 19th-century circular lime kiln in Wisconsin. This kiln, part of the Michigan Quarrying Company complex, was used to burn crushed limestone into a powder known as quicklime, an important component of mortar and whitewash. The limestone was removed from an adjoining quarry, burned down in the kiln, and then shipped south to the growing cities of southern Lake Michigan by sail and steam vessel. The kiln and quarry ceased operation in 1882 when the opening of the Sturgeon Bay Ship canal allowed quarries further south to outcompete those in northern Door County.
Visitors to Toft Point State Natural Area can hike through the old quarry, now overgrown with moss and greenery, past the kiln, and to the remains of the shoreline dock platforms. Sharp-eyed hikers who visit during times of calm and clear waters might even spot the shadows of the submerged dock cribs or fragments of the Ebenezer, a two-masted schooner that stranded near the quarry pier in 1880.
The Toft Point quarry and kiln complex is one of dozens of privately-owned commercial ports that once stood along the Lake Michigan shore. These ports, run by smaller firms and partnerships, exported raw materials such as lumber and stone to cities on the south end of Lake Michigan. The managers of longer-lived ports, such as Carlton in Kewaunee County, exchanged natural products for manufactured goods. They built general stores next to the piers where visitors could sell timber and grain and buy manufactured goods, to the profit of the store owners. Such pier complexes usually included sawmills, homes for workers, hotels, dance halls, churches, and schools, before fading away into history. The piers were serviced by a wide array of hired schooners, scows, and steam barges, known as Wisconsin's "mosquito fleet."
Lime kilns like the Toft Point kiln were built throughout Door County with the ruins of many more found across the state including a prominent kiln located within High Cliff State Park.
Enlarge

Charles E. Browne and Dorothy Moulding Brown
2023 marks the 120th anniversary of the founding of the Wisconsin Archeological Society. Charles E. Brown (1872-1946), the Society's co-founder and secretary, has been called the Father of Wisconsin Archaeology. Brown spent more than half of his life in the service of Wisconsin history and archaeology—working at the Milwaukee Public Museum before beginning a 36-year tenure as curator of the State Historical Society museum (1908-1942).
Brown pioneered the use of citizen science in Wisconsin archaeology, reaching out to farmers, community leaders, antiquarians, and members of Native Nations. His efforts yielded reams of information about archaeological sites, folklore, and local history. His papers form the basis of the modern Wisconsin Archaeological Sites Inventory, and are available to the public in the Wisconsin Historical Society's Archives.
Brown visited many of Wisconsin's archaeological sites, documenting mounds and sketching artifacts, and writing up accounts of what he saw. Numerous articles in The Wisconsin Archeologist bear his byline, and he served as editor of the journal for many years. A tireless advocate of public engagement in historic preservation, Brown enlisted the help of women's organizations and other groups to protect burial mounds and advocate for historic preservation laws. He also helped build public support by leading popular summer field excursions and field trips.
His second wife, Dorothy Moulding Brown (1896-1965), was an author and leading figure in the Wisconsin Folklore Society, which also counted Charles E. Brown as a member. She drew from her own and her husband's research to craft articles for The Wisconsin Archeologist and other journals. Her topics were wide-ranging, spanning subjects such as ethnobotany, American folk heroes, circus legends, and Native American traditions. Together, the team made a formidable pair, helping to preserve tales of Wisconsin's early days.
Villa Louis: Wisconsin's First State Historic Site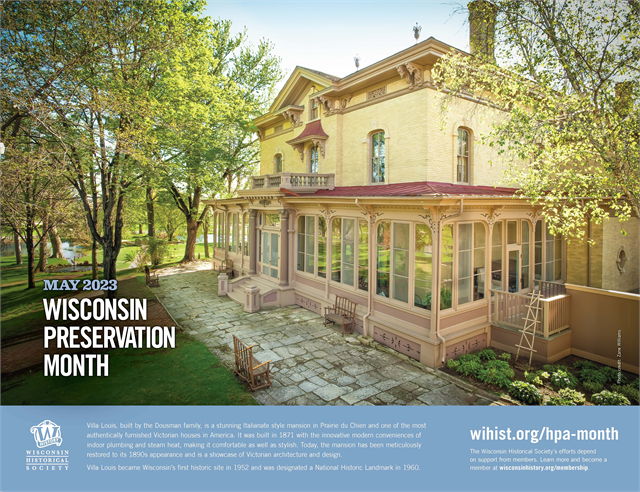 Photograph by Zane Williams
Located on Saint Feriole Island in Prairie du Chien, Villa Louis commands a panoramic view of the Mississippi River. Milwaukee architect E.T. Mix designed this palatial Italianate style house in 1870. Built for a prominent family, which made a fortune during the French and British fur trade, the house was suited both to their large family and their lavish social life. Villa Louis replaced an earlier residence built by Louis's father, Hercules Louis Dousman I. The new house, with its public rooms on the first floor and bedrooms on the second, had many modern conveniences, including a ventilation system, central heating, and indoor plumbing. The home displayed a stylish urban sophistication more common to larger cities. The house sat in a park-like setting landscaped with pathways, specimen trees, and an ornamental fountain.
Jane Dousman, widow of HL Dousman I, lived in the new house until her death in 1882. At that time her son and his family made it their permanent home and established a horse-breeding farm on the estate. HL Dousman II died in 1886 and his wife, Nina Sturgis Dousman, took over the running of the estate. Nina renamed the house "Villa Louis" in memory of her husband.
Beginning in 1885 Nina Dousman, redecorated the house to reflect the contemporary British Arts and Crafts influence. The decorator was Joseph Twyman, an English designer and admirer of William Morris, who furnished the home with richly detailed draperies, lushly textured wallpapers, and colorful floral carpets. The house and its furnishings have been authentically restored to reflect Villa Louis' heyday in the 1890s.
The Dousman family gave the property to the city of Prairie du Chien in 1935 to be operated as a house museum. Villa Louis became Wisconsin's first state-owned historic site in 1952 and is open for tours. The house and its collections are operated by the Wisconsin Historical Society. The property was designated a National Historic Landmark in 1960.
Learn More
Have Questions
Contact Amy Wyatt at amy.wyatt@wisconsinhistory.org.