General Information
Wisconsin Historic Preservation and Archaeology Month
May is Historic Preservation Month and Archaeology Month in Wisconsin when we celebrate the preservation of historic places that help us understand our past. Each year, we release original posters and bookmarks featuring interesting historic places in Wisconsin.
Find an Event to Celebrate
Check out our calendar for events!
Submit your Local Event to our Calendar
The Wisconsin Historical Society promotes community events that meet our criteria for promoting historic places during Historic Preservation and Archaeology Month. You may submit your event to our calendar through our online form.
2022 Historic Preservation and Archaeology Month Posters and Bookmarks
Successful Recovery of a 1200 Year Old Canoe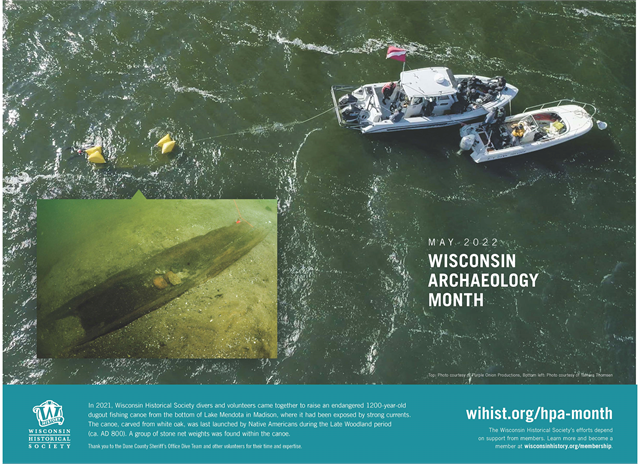 Photograph by Purple Onion Productions. Underwater photo of canoe by Tamara Thomsen.
The 2022 Archaeology Month Poster commemorates the recovery of a 1200 year old white oak canoe from Madison's Lake Mendota in November 2021 by Wisconsin State Historic Preservation Office archaeologists, the Dane County Sheriff's Dive Team, and volunteers. The extraction came after months of work and planning so that this historic canoe could be removed safely and without damage. In June 2021, SHPO diver Tamara Thomsen found the canoe in 27 feet of water. Because the shifting lake bottom had uncovered portions of the canoe, plans were put in place to remove the canoe as soon as possible as it was now susceptible to rapid decay. The find is notable as the oldest known intact canoe in the state and the only one with associated artifacts. Previously discovered canoes were typically found in shallow water as it was the tradition of Wisconsin's first occupants to submerge canoes in the fall and recover them in the spring. This canoe was recovered in deeper water with net sinkers leading archaeologists to believe it likely sank while being used for fishing.
Enlarge

The canoe has captured the interest of both Wisconsin and international audiences. BBC's Time Team chose the canoe as one of 2021's top ten archaeological discoveries in the world. The canoe is now in a vat of water at the State Archive Preservation Facility where it is undergoing conservation, scanning, analysis, and stabilization for future display. Wisconsin Tribes consulted on the project and support its conservation and see it as an educational opportunity for both Native and non-Native people.
Stone Net Sinker Found with the Canoe
This stone net weight or "netsinker" is one of seven found inside the 1200 year old dugout fishing canoe recovered from Lake Mendota. In the photo, it is tied with a replica cord. It originally would have been fastened to a cord or net from basswood pith, nettle, or other natural fibers.
"Old Main" Preserved at Milwaukee National Soldiers Home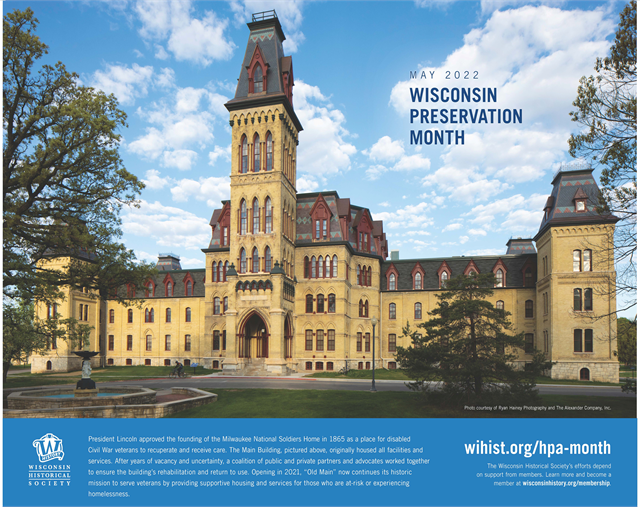 Photograph by Ryan Hainey Photography, Courtesy of the Alexander Company
One of President Lincoln's last acts was signing legislation to create a national system of homes for disabled veterans. Old Main, the domiciliary at Soldiers Home and the subject of the 2022 Historic Preservation Month Poster, is one of the oldest buildings in the VA system. The building served veterans from 1867 to 1999 but was then vacant and endangered until 2019. A campaign to save Old Main began in 2010 and was realized through a partnership that included Department of Veterans Affairs, Housing Authority of the City of Milwaukee, Center for Veterans Issues, Milwaukee VA Medical Center, The Alexander Company, Ramlow/Stein, JP Cullen, Greater Milwaukee Foundation, Milwaukee Preservation Alliance, the Wisconsin SHPO, and the National Park Service. The project resulted in 101 apartments for veterans and their families who are at risk or experiencing homelessness. The rehabilitation project included repairing and restoring all stone, brick, tin ceilings, terrazzo floors, and historic doors and windows. A Vermont quarry provided slate to match the original roof tiles.
Enlarge

The completed project has garnered national recognition including awards from the Wisconsin Historical Society Board of Curators, Advisory Council on Historic Preservation and Department of Housing and Urban Development, and the National Trust for Historic Preservation. ACHP Vice Chairman Jordan Tannenbaum said, "This extraordinary project was a true labor of love that brought together a community for the benefit of America's veterans. This project is a shining example of collaboration, creativity, and perseverance in preserving significant historic buildings." The National Trust for Historic Preservation presented the project with its distinguished Richard H. Driehaus Foundation National Preservation Award. This award highlights how historic buildings foster a sense of place and strengthen our nation's collective architectural heritage and legacy. The rehabilitation of Old Main illustrates how a combined approach of community engagement, economic development, adaptive reuse, and historic preservation can save a unique asset for our state and its citizens.
Learn More
Submit Your Local Historic Preservation and Archaeology Month Event
Archaeology Programs and Services
Preserve Your Homes and Properties
Have Questions
Contact Amy Wyatt by phone at 608-264-6506 or by email below: