General Information
Wisconsin Historic Preservation and Archaeology Month
May is Historic Preservation Month and Archaeology Month in Wisconsin when we celebrate the preservation of historic places that help us remember and understand our past. Each year, we release original posters and bookmarks featuringinteresting historic places in Wisconsin. We still plan to print the posters and bookmarks for 2020 and to distribute them when State Historic Preservation Office staff can work again at our headquarters building in Madison.
In 2020, we are also commemorating the passage of the 19th amendment and 100 years of women's suffrage. This is a wonderful opportunity during Historic Preservation and Archaeology month to highlight women in Wisconsin's history, their experiences, and their contributions to our state.

Find an Event to Celebrate
Check out our events calendar for virtual events!
2020 Historic Preservation and Archaeology Month Posters and Bookmarks
Enlarge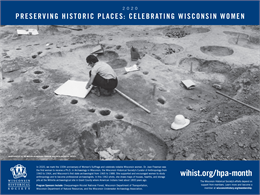 Wisconsin's first State Archaeologist, Dr. Joan Freeman.
Dr. Joan Freeman working at the Millville archaeological site in Grant County in 1962. Photo courtesy of the Museum Archaeology Program.
Dr. Joan Freeman at the Millville Site
The Archaeology Month poster features Dr. Joan Freeman who was the first woman to receive a Ph.D. in Archaeology in Wisconsin, the Wisconsin Historical Society's Curator of Anthropology from 1960 to 1964, and Wisconsin's first state archaeologist from 1965 to 1988. She supported and encouraged women to study anthropology and to become professional archaeologists. In this 1962 photo from the Society's Museum Archaeology Program, Dr. Freeman draws maps of houses, hearths, and storage pits at the Millville archaeological site in Grant County where American Indians lived about 1800 years ago.
The Archaeology Month bookmark honors the often hidden role of female artisans and craft-workers in Wisconsin. Ho-Chunk clan mother Myrtle Long designed and beaded this necklace in 1969. Many traditionally female realms of expression, whether textile art, quill work, and basketry do not survive in Wisconsin's archaeological record. Though some rock art and perhaps most pottery designs record women's artistry and expression of identity and world view, women's hands are under-recognized or ignored in archaeological accounts. As we celebrate the 100th anniversary of women's suffrage, we also celebrate the many generations of American Indian women who left their mark during Wisconsin's 14,000 years of human history.

The Janesville Woman's Club Association Building
Enlarge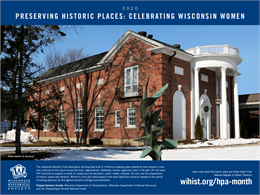 The Janesville Woman's Club
The Janesville Woman's Club was built in 1928 for the many women's clubs organized in the community. Photographed by Den Adler.
The Janesville Woman's Club Association building (1928) is featured on our Historic Preservation Month poster as an example of the preservation of a community landmark and as a representative of the many women's clubs organized in Wisconsin in the late nineteenth and early twentieth centuries. The Janesville Woman's Club building was a meeting place shared by local women's clubs and continues to this day to house five local organizations. Women's clubs formed to tackle a variety of community issues related to the arts, education, public health, as well as the preservation of local historic places and artifacts. Women's clubs also participated in the most significant political debates of the period including advocacy for and against women's suffrage and prohibition. In 1900, the Wisconsin Federation of Women's Clubs had 133 clubs and 7500 members.
Enlarge

Forward Statue by sculptor Jean Pond Miner
View the property record: AHI 74254
The Historic Preservation Month bookmark features Sculptor Jean Pond Miner working on "Forward" in the Wisconsin Building at the 1893 Columbian Exposition. "Forward" stood on the State Capitol grounds from 1895 to 1995 until weather took its toll. It is now conserved and housed inside at the Wisconsin Historical Society.

Sponsors
We would like to thank our generous 2020 sponsors. Their contributions help make Historic Preservation and Archaeology Month a success.
Charles E. Brown Chapter - Wisconsin Archeological Society
Robert Ritzenthaler Chapter - Wisconsin Archeological Society
Learn More
Submit Your Virtual Local Historic Preservation and Archaeology Month Event
Archaeology Programs and Services
Preserve Your Homes and Properties
Have Questions
Contact Amy Wyatt by phone at 608-264-6506 or by email below: