General Information
Wisconsin Historic Preservation and Archaeology Month
Each May, Wisconsin celebrates Historic Preservation and Archaeology Month. This annual event offers many opportunities to celebrate your community's historic places. Throughout Wisconsin, activities are held that remind us of the important historic resources that give meaning and a sense of place to our communities — and focus attention on how critical it is to make sure they are preserved.
Find an Event Near You
Check out our events calendar for a list of community hosted events and attend one that is close to you.
Submit your Local Event to our Calendar
The Wisconsin Historical Society promotes community events that meet our criteria for promoting historic places during Historic Preservation and Archaeology Month. You may submit your event to our calendar through our online form.
2019 Historic Preservation and Archaeology Month Posters
Lizard Mound
Lizard Mound County Park, located northeast of West Bend, is home to the surviving portions of the spectacular Hagner mound group. Between AD 750 and 1200, Late Woodland peoples who participated in the Effigy Mound Ceremonial Complex erected dozens of earthen mounds here, on a wooded plateau surrounded by natural springs. Each mound marked the final resting place of one or more community members. Many of the mounds were built in 'effigy' form—sculpted to represent monumental water spirits and water fowl representing ancestral spirits or clan totems. When completed, the ceremonial center boasted more than sixty mounds, making it the largest known ritual site with effigy mounds in eastern Wisconsin, and one of the largest in the upper Midwest. Today, twenty-eight mounds are preserved within the park boundaries, including twin 'goose' effigies and the spectacular four-legged water spirit or 'lizard' mound that gives the park its name. Like many of Wisconsin's mound groups, the site suffered from the attention of looters and careless excavators before its purchase for public preservation in 1950. Wisconsin's burial mounds, like all human burial places, are now protected by state law. You can learn more about the people who built Wisconsin's unique effigy mounds on our website.
Dells Mill
Enlarge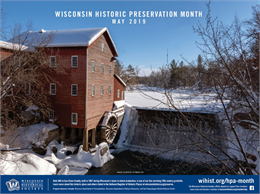 Dells Mill 2019 Historic Preservation Month Poster
Photograph by Mark Fay
View the property record: AHI 16146
Dells Mill, located on Bridge Creek near Augusta, began operation in 1867 as wheat cultivation spread to northwestern Wisconsin and gristmills sprang up to serve local farmers. Unfortunately, soil depletion, insects, blight, and competition from farmers in Minnesota and the Dakotas combined over time to impact Wisconsin's wheat production. An increase in demand during World War I helped wheat make a brief comeback and the owners replaced their original buhrstone with a more efficient roller mill. Ironically, this type of roller mill was one of the factors that hurt Wisconsin wheat by making it easier to grind the hard winter wheat of farmers to the west. The Dells Mill survived by constantly diversifying its operations to cereal milling and feed mixing until 1968 when it was converted to a museum. It was listed in the National Register of Historic Places in 1974. In addition to the technological upgrades made over the years, one interesting and purely aesthetic feature is the overshot water wheel added in 1968 to the museum to create a more traditional mill appearance even though it was never a part of the operation.
Sponsors
We would like to thank our generous 2019 sponsors. Their contributions help make Historic Preservation and Archaeology Month a success.
Charles E. Brown Chapter - Wisconsin Archeological Society
Robert Ritzenthaler Chapter - Wisconsin Archeological Society
Learn More
Submit Your Local Historic Preservation and Archaeology Month Event
Archaeology Programs and Services
Preserve Your Homes and Properties
Have Questions
Contact Joe DeRose by phone at 608-264-6512 or by email below: