General Information
Preserving an Original Restroom in Your Historic Building
Enlarge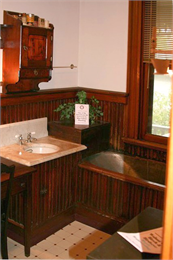 James Vincent House, 1884
La Crosse, Wisconsin. Original bathroom fixtures can be repaired and retained as seen here at the James Vincent House in La Crosse. View the property record: AHI 28725
The original restroom facilities in your historic commercial building may have been primitive or formal. Some 19th-century restrooms consisted of merely a toilet in the basement. Some were toilets and sinks set in a small partitioned space at the rear of the building. Other historic restrooms had elaborate tile floors, marble stall walls and decorative fixtures. Each of these elements is a character-defining feature of your building. If your building still has these features and they remain functional, you should preserve and maintain them.
Learn the History of Public Restrooms
The late 19th century saw great advances in plumbing technology and the development of new restroom fixtures. Many communities funded waterworks and installed water and sewer pipes to commercial buildings and residences. As restrooms became more prevalent, they also became more elaborate. By the turn of the 20th century, many buildings were designed with restrooms containing pedestal sinks, tile floors and decorative finishes. These original fixtures contribute to the architectural and historical character of commercial buildings. You should retain these features and other character-defining fixtures and materials in your building, such as the restroom tile design and color.
Upgrade Your Historic Restroom
You may need to upgrade the restrooms in your historic commercial building. These upgrades might be necessary to meet ADA (Americans with Disabilities Act) requirements or to update non-historic fixtures that were added to your building. You should preserve as much of the original restrooms and features as possible, especially the floor, ceiling, wall surfaces and fixtures such as pedestal sinks. If you cannot retain your original fixtures, add new fixtures with designs that are consistent with the age and style of your building. Be careful that your new designs will not falsify history.
Add a New Restroom
If you are adding a new restroom, design it to minimize the loss of original features. A wide variety of sinks, toilets and other restroom fixtures are designed specifically for historic buildings and are appropriate for most 19th and early 20th century building styles. Choose neutral designs so your non-historic fixtures will not be mistaken for historic ones.
Follow Best Practices
Enlarge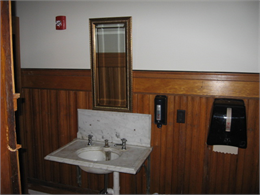 Mabel Tainter Memorial Theater, 1889
Menomonee, Wisconsin. Sometimes the original wood wainscott remains in the restrooms as seen at the Mabel Tainter Theater in Menomonee. Source: Miller Dunwiddie Architects. View the property record: AHI 29383
When you are making plans to upgrade your original elevator or add a new one to your historic commercial building, follow these best practices:
Preserve and maintain your original restroom features. Preserve your significant historic restroom features, including original tile floors, marble vanities and sink faucets.
Repair and maintain your existing restroom fixtures. Instead of replacing your original restroom fixtures, repair and maintain them. Clean your tiles and grout with the gentlest means possible, using water and a mild detergent. Remove any deteriorated grout and replace it with new grout. Do not use an abrasive tool or acidic agent to clean polished marble. Carefully clean oxidized metal fixtures with a wire hand-brush and then apply a protective coating.
Make new restrooms ADA compliant. Design your new restroom to meet ADA requirements. For example, to be ADA-compliant, your new restroom will need to be accessible on the ground floor. It will also need a wide door and grab bars.
Replace a missing restroom fixture with a replica. If some of your building's original restroom fixtures are missing, use a surviving one to have a matching replica made. You can find suppliers of vintage and replica bathroom fixtures by searching the web.
Minimize the removal of original materials. If you construct a new restroom, place it in the location of any previous restroom or add it so it results in the least amount of

demolition

to original wall, ceiling and floor materials as possible.