Historical Essay
Nolen, John, 1869-1937
Urban Planning in Wisconsin
Enlarge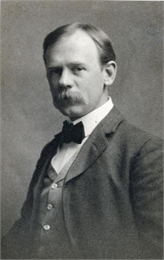 John Nolen
Waist-up studio portrait of John Nolen, landscape architect. View the original source document: WHI 12506
Although not from Wisconsin, famed landscape architect John Nolen (1869-1937) left a lasting mark on the state, developing plans for the University of Wisconsin, the city of Madison, and the state park system. A pioneer in the development of professional city planning, Nolen's comprehensive approach blended social, economic and physical aspects of urban life with the preservation of natural beauty. He felt strongly that "simple recreation in the open air amid beautiful surroundings contributes to physical and moral health, to a saner and happier life," and his plan for the city of Madison is considered a pre-eminent example of the urban landscape movement.
Born in Philadelphia, Pennsylvania, on June 14, 1869, John Nolen was orphaned as a child and placed in the Girard School for Orphaned Boys by the Children's Aid Society. Nolen graduated first in his class in 1884 and worked as a grocery clerk and secretary to the Girard Estate Trust Fund before enrolling in the Wharton School of Finance and Economics at the University of Pennsylvania in 1891.
Working for the American Society for the Extension of University Teaching, Nolen traveled to England for a conference at Worcester College, Oxford, in 1895, where he first became interested in architecture and landscape. A second trip to Europe with his wife in 1896 led to his decision to become a landscape architect. Nolen later cited the grounds surrounding Worcester College as an inspiration for his plans for Madison.
In 1902 Nolen sold his house and used the money to enroll in the Harvard School of Landscape Architecture under famed instructors Frederick Law Olmsted, Jr., Arthur Shurtleff and B.M. Watson. He earned his Master of Arts in 1905 and became a member of the American Society of Landscape Architects.
In 1908 John Olin of the Madison Park and Pleasure Drive Association contacted Nolen for advice in laying out Madison city parks. Without the money to pay Nolen, Olin enlisted the support of the city, the University of Wisconsin and the state. Together they devised a contract to have Nolen make recommendations for the beautification of each. For the city of Madison, Nolen recommended establishing boundaries for industry, business, government and residential life, widening streets and planting trees, increasing land given to parks and plazas, and regulating the height and style of buildings near the Capitol to highlight its place at the center of a thriving state.
For the university Nolen proposed the addition of more than 1,000 acres of land that would include various gardens, an arboretum and a summer engineering camp. Though built decades later, the pedestrian mall connecting the university to the state Capitol — State Street — was consistent with Nolen's vision of how the university could transform Madison cultural life.
Perhaps Nolen's most important contribution, though, was his plan for a state park system. Having seen the rapid deforestation of northern Wisconsin, the depletion of mineral resources in the southwest, and increasing urban development, Wisconsin's progressive leaders sought to protect the state's landscapes before private interests took complete control. Nolen was hired not only to find locations for parks but also to provide a reason for their existence. He recommended the creation of four state parks and provided guidelines for the establishment of a state park system, asserting that natural landscapes were essential to human happiness. Nolen's plan convinced the state Legislature to provide an organizational structure and funding for a system of state parks.
With these projects in Wisconsin and earlier efforts in Virginia, Georgia and, in particular, San Diego, California, Nolen's prestige as an innovative urban planner was firmly established. By 1919 Nolen had written two books, edited two others and published dozens of articles. In 1927 he was elected president of the National Conference on City Planning.
Nolen died on February 18, 1937, at the age of 67.