Wisconsin in the Civil War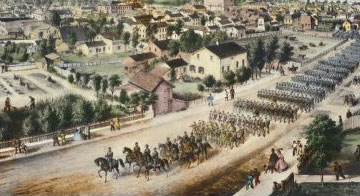 Wisconsin's Involvement in the Civil War
Read an overview of Wisconsin's involvement in U.S. Civil War, 1861-1865. Learn about the state's contributions including the Iron Brigade and Old Abe, the war eagle.
READ MORE >
Help for Searching This Topic
SEARCHING FOR PRIMARY SOURCES
To research primary source materials, click the Blue Browse Here button.

Primary source materials are original documents, photographs, artifacts, recordings, or other information created at the time of an event and by a person with direct knowledge of the event.
FINDING BACKGROUND INFORMATION
To find more background information, use the site-wide search function at the top of the page (the white box and orange SEARCH button). Background material is content written or collected by Society staff or other contemporary authors about a historical subject.
Resource Description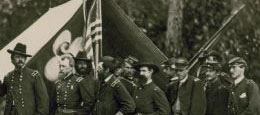 About Our American Civil War Collections

Our Civil War materials – collected for over 150 years – offer researchers a wealth of materials including rosters, casualty lists, memoirs, historical photographs, regimental histories and more.
Have Questions?
For questions about the Roster or help finding a soldier, please contact us:
Search Our Documents
Roughly 25,000 pages of original documents about Wisconsin in the Civil War are available online including soldiers' letters, diaries, and memoirs; regimental histories and rosters; photographs, maps, biographies and battle summaries.
Wisconsin Civil War Essays
Read dozens of stories taken from original documents about camp life, combat, death and destruction, politics, enemy encounters and personal reflections.
Civil War Battle Summaries
Learn basic facts about each battle and the role played by Wisconsin troops. Summaries include links to battle maps, related images and original documents.
Wisconsin Civil War Regimental Histories
Learn basic regiment facts and the important engagements. Histories include links to original documents.
Biographies of Wisconsin Civil War Leaders
Read short biographies of prominent Wisconsin figures from the Civil War era.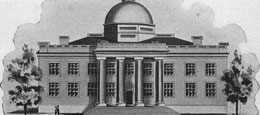 View Census Enumeration Documents Online
1885 Veterans Enumerations

Enumeration of soldiers and sailors of the late war residing in Wisconsin June 20, 1885

1895 Veterans Enumerations

Wisconsin census enumeration, 1895 : names of ex-soldiers and sailors residing in Wisconsin, June 20, 1895 : alphabetically arranged

1905 Veterans Enumerations

Wisconsin census enumeration, 1905 : names of ex-soldiers and sailors residing in Wisconsin, June 1, 1905
More Essays on Wisconsin in the Civil War