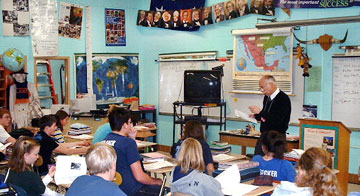 Resources for Teachers
Start enhancing your teaching today by discovering useful tools from experts at the Wisconsin Historical Society. Help your students research history with helpful guides and lesson plans. Watch history come to life in our books, field trips and classroom visits.


STUDENT RESOURCES
Discover amazing facts about Wisconsin history on your own!
Secondary Lesson Plans
Teach Wisconsin history with primary sources drawn from collections within the Society's Archives. Designed for grade levels 6-12.
SEE MORE LESSON PLANS
TURNING POINTS IN WISCONSIN HISTORY

Explore key historical events that shaped Wisconsin and our nation. Read essays based on rare books and primary source documents.
Refine Search
For more information on Teacher Resource
Primary Sources and Research Tools
With resources appropriate for every grade level, bringing primary resources and critical thinking to the classroom has never been easier.
History Field Trips
Make history come to life for your students! Tour a local historical society or museum in your area to see log cabins, blacksmith shops, historic kitchens and more!
Educational Publications
Introduce middle school readers to Wisconsin history with our kid-friendly books.
Archaeology Resources
Familiarize your students with the basic concepts and procedures guiding archaeological research.
Have Questions?
If you have questions about our field trips, lesson plans, or other educational resources, please contact Kurt Griesemer by phone at 608-264-6547 or by email.