4th-Grade Wisconsin History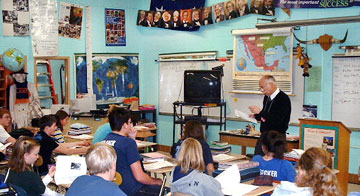 Teach 4th-Grade History
Find resources specific to 4th-grade Wisconsin history including textbook materials, lesson plans, interactives, cross-curricular activities, and more.


Educational Publications
Introduce elementary and middle school readers to Wisconsin history with ourkid-friendly books. learn more
STUDENT RESOURCES
Discover amazing facts about Wisconsin history on your own!
Have Questions?
Get information and advice from our helpful school services staff!
Get answers to commonly asked questions about teaching 4th-grade Wisconsin history.
Refine Search
For more information on 4th-grade Wisconsin history
THINKING LIKE A HISTORIAN
The "Thinking Like a Historian: Rethinking History Instruction" guidebook is filled with practical examples, engaging and effective lessons, and classroom activities that tie to essential questions. It provides a solid foundational framework designed to enhance and improve the teaching of history in any classroom.
learn about the book >
Available in English and Spanish.
This poster highlights the essential questions from the "Thinking Like A Historian" framework.
Archaeology Resources
Familiarize your students with the basic concepts and procedures guiding archaeological research.
Archaeology Activity Boxes

With our archaeology activity boxes, students will learn using the same tools and techniques employed by archaeologists.
FIND A LOCAL HISTORICAL SOCIETY
Make history come to life for your students! Tour a local historical society or museum in your area to see log cabins, blacksmith shops, historic kitchens and more!
Search our Local Historical Societies Directory to get information about educational programming, tours, hours, addresses and more.
4th-Grade History Textbook

The definitive 4th-grade history textbook brings to life the stories of Wisconsin's past, aligns with cross-curricular Wisconsin Model Academic Standards and stimulates critical thinking. learn more


Online Interactive Learning
View the Society's interactive resources that make learning fun!