LGBTQ+ History | BIG History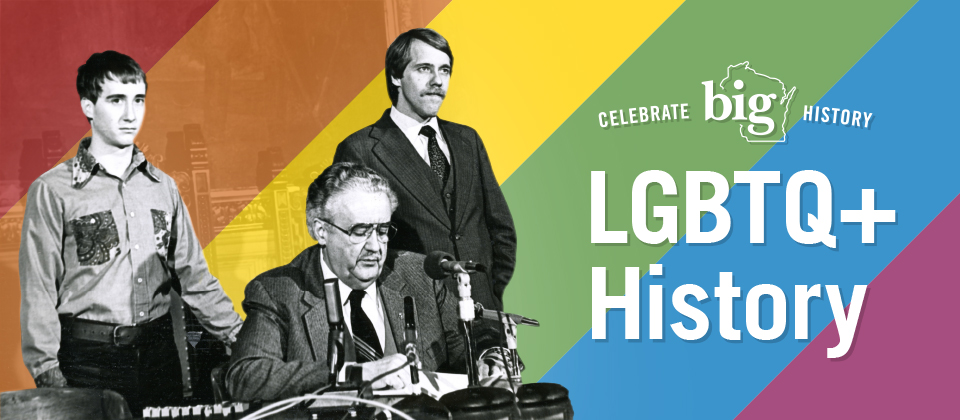 LGBTQ+ history in Wisconsin
The history of the LBGTQ+ community in Wisconsin is extraordinary, despite being largely untold. While the focus on the gay liberation movement is focused predominantly on America's coasts, real progress was made right here in the Badger State. In 1966, Wisconsin had the first public call by a political body for abolition of restrictions against queer people so they could have "freedom of action." Before Harvey Milk was elected to the San Francisco Board of Supervisors in 1977, Midwest cities including Madison had openly gay elected officials. In 1982, Wisconsin became the first state to enact a gay rights law prohibiting discrimination in employment, housing, and public accommodations on the basis of sexual orientation. Wisconsin was also the first state to elect three openly gay/lesbian persons to Congress: Steve Gunderson, Tammy Baldwin, and Mark Pocan. Learn more about the history of the queer community through articles, artifacts, and other important items below that help tell their story.
Celebrate Wisconsin's LGBTQ+ Community
Wisconsin's Gay History | Book Series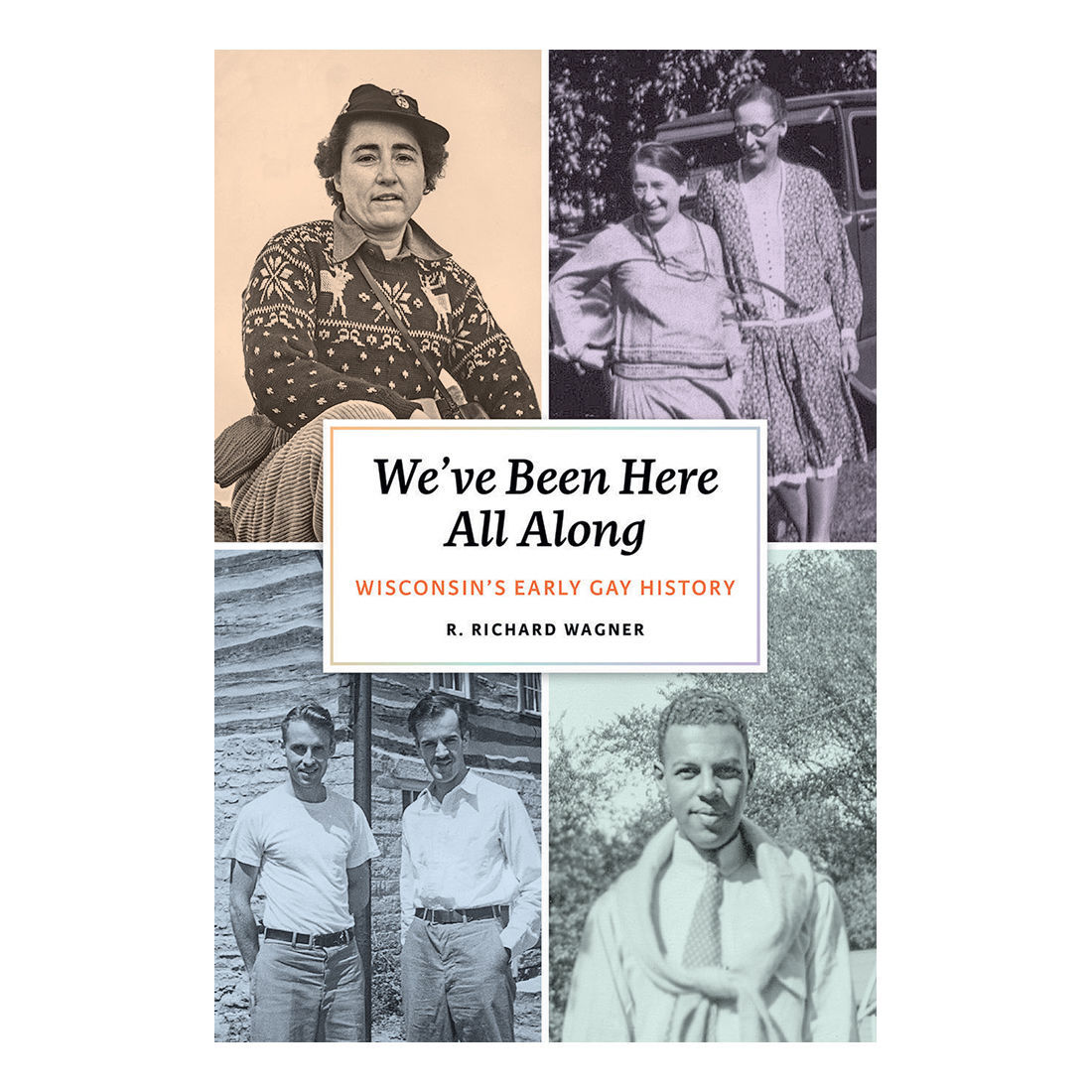 In We've Been Here All Along, R. Richard Wagner draws on historical research and materials from his own extensive archive to uncover previously hidden stories of gay Wisconsinites. This book, published by the Wisconsin Historical Society Press honors the legacy and confirms that gay Wisconsinites have been fundamental to the development and evolution of the state since its earliest days. Read Free Excerpt
Buy the Book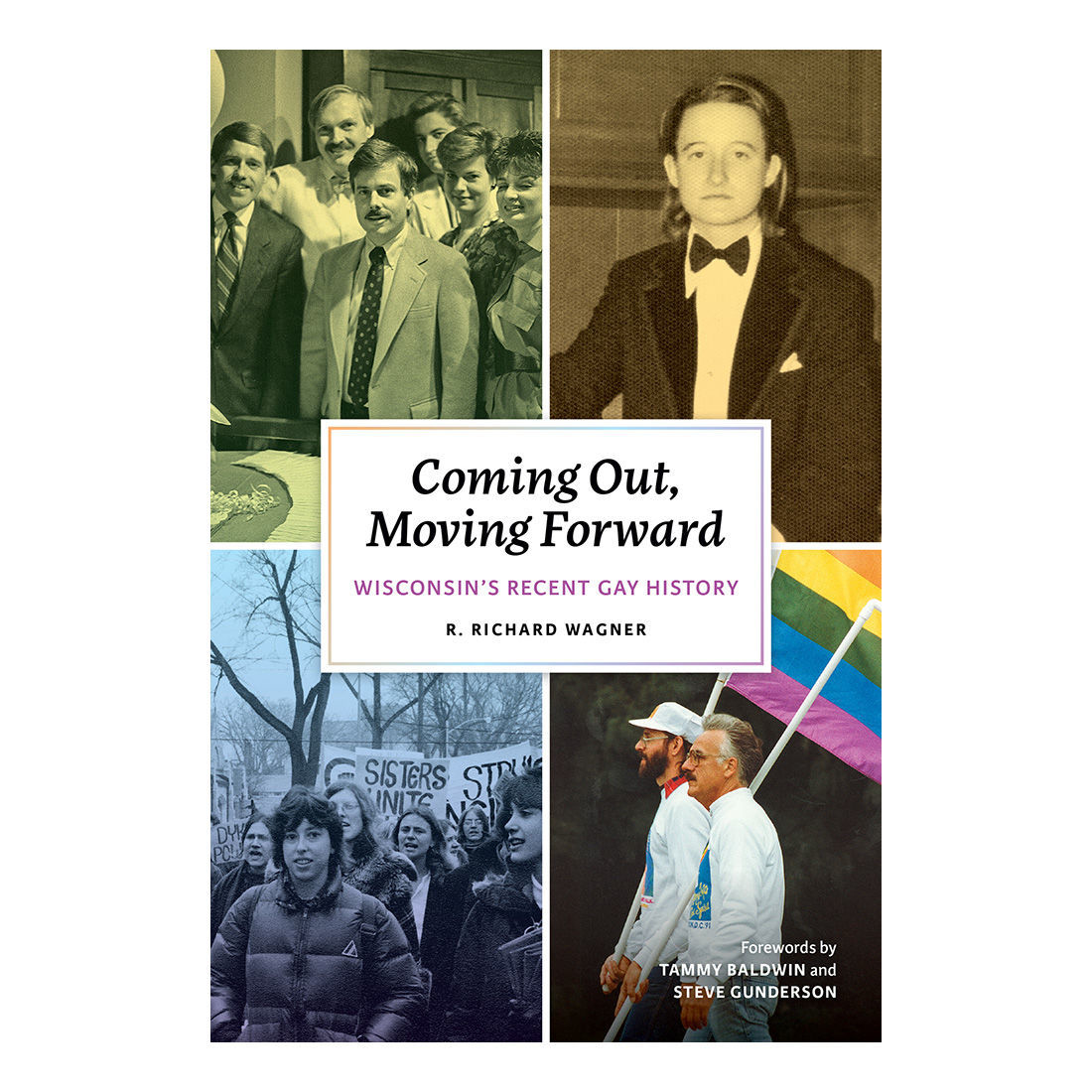 Coming Out, Moving Forward, the second volume in R. Richard Wagner's groundbreaking work on gay history in Wisconsin, outlines the challenges that LGBTQ+ Wisconsinites faced in their efforts to right past oppressions and secure equality in the post-Stonewall period period between 1969 and 2000. This is the second book in the collection published by the Wisconsin Historical Society Press.
Buy the Book
This inspiring and educational book presents examples of LGBTQ+ activism throughout Wisconsin's history for young people to explore and discuss. Drawing from a rich collection of primary sources—including diary entries, love letters, zines, advertisements, oral histories, and more—the book provides a jumping-off point for readers who are interested in learning more about LGBTQ+ history and activism.
Buy the Book
Two Spirit People
In American Indian communities, the term Two Spirit has been used for many generations, predating western religion and LGBTQ+ terminology. Two Spirit describes individuals who have both masculine and feminine spirits and are uniquely blessed to see life through the eyes of two genders. Two Spirit people possess a unique identity and should be recognized as such, as the term is not necessarily interchangeable or synonymous with other commonly used LGBTQ+ terms. Someone who is Two Spirit embodies two genders residing in one person. A Two Spirit person may be gay, but a gay person is not necessarily Two Spirit. You can learn more about what it means to be Two Spirit in the article from Indian Country Today below.
Learn More
Queer Art Gallery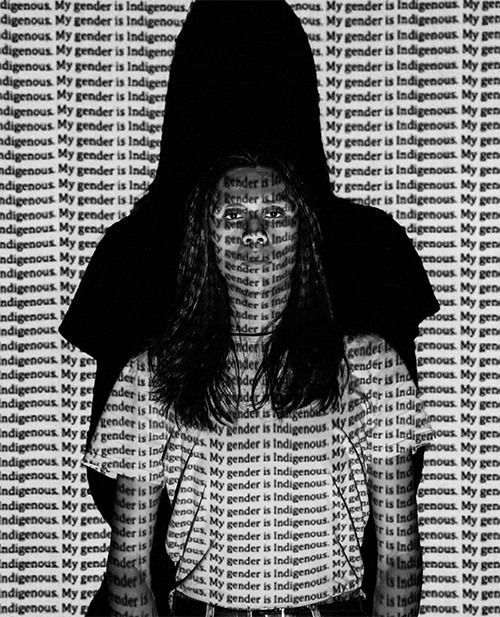 My Gender is Indigenous
By Ryan Young (Ojibwe)
As I grew into my queer identity, I recognized that there was a huge disconnect between my gender/sexual identity and my cultural identity. Experiences with homophobia limited my access to certain cultural spaces and it affected my relationship with my culture. It was not until college that I learned about the term Two Spirit, their historical recognition of different gender identities and sexualities in many Indigenous cultures, particularly in Ojibwe culture. That moment was really empowering for me because it introduced me to a term that recognized my queerness through a cultural context, and it was also the first step I took into looking for and eventually finding my Two Spirit community.
I wanted to recreate that experience through my artwork. When creating "My Gender is Indigenous", it reflected my personal journey to find the language to articulate the intersections of my identity. The phrase itself is meant to empower my Queer Indigenous audience, and to hopefully spark conversations around gender and sexuality through the specific cultural lenses of the viewer.
"I look queer and Indigenous because I am queer and Indigenous, and thus, the definition of what is queer and Indigenous-looking, is defined by my existence, not the other way around."
More about Ryan Young
Two Spirit artist
Ryan Young (they/them/their) is a Two Spirit Ojibwe multi-disciplinary artist from Lac du Flambeau, WI. They are a graduate from the Institute of American Indian Arts, completing their BFA in Studio Arts (Photography) and a certificate in Performing Arts. Their senior show focused on empowering Two Spirit people, using a variety of mediums, including photography, silkscreen printing, projection and mixed media.
Their first photography project, Indigeneity, promoted representation of Indigenous students at the University of Wisconsin-Madison. This project led to a photo spread in Native Max Magazine and a position as their Deputy Fashion Photography editor. Young's photography appeared in multiple issues and in advertisements for JG Indie during New York's Fashion Week. In 2018, Young was announced as Eighth Generation's designing artist for the Two Spirit Blanket, which was released later that year. After completing their degree in 2019, they worked as the Native American Student Services Outreach Coordinator at the University of Illinois at Urbana-Champaign before returning to Santa Fe, New Mexico, where they continue to make art and serve on the IAIA Alumni Council. They will be speaking on a panel about Two Spirit identity and activism at the Smithsonian's National Museum of the American Indian in June 2021.
Learn More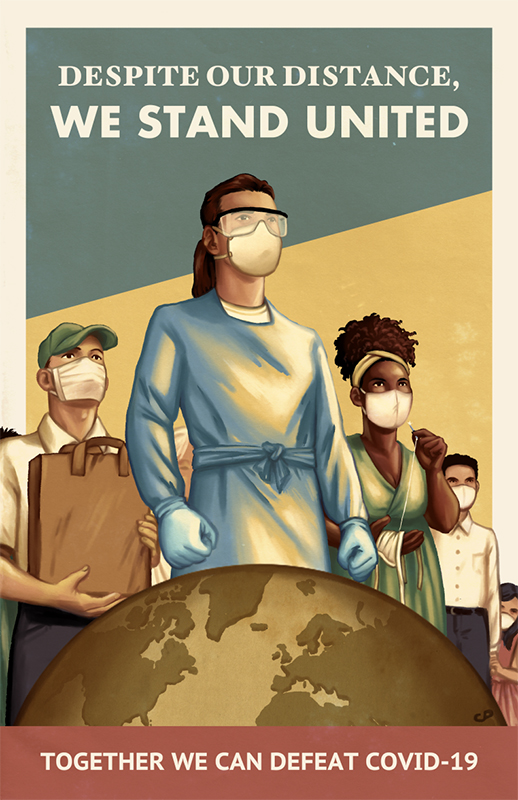 Cat Parra
Local Artist
Cat Parra is a Madison based comic artist and illustrator. Cat is a participant in the Wisconsin Historical Society COVID-19 Poster Project, the poster featured here is her contribution!
Her work primarily explores themes of adventure and self discovery through the lens of historical fiction. In 2015 she and her good friend Zora Gilbert, who she met at a Madison high school, founded Margins Publishing, a small press publisher focused on producing work by and about people of marginalized identities.
Margins' flagship publication is Dates! which collects short comics, prose, and illustrations assembled with the goal of showcasing tragedy-free historical queerness. They've published three volumes so far, the most recent of which features nearly 50 talented artists and writers from across the queer continuum and the world.
Other recent publications from Margins include A Survey of Queer Looks, an illustration zine of historical queer aesthetics and signifiers, and The Elusive Mr Vanderbridge, a sapphic jazz age mystery about two reporters on the gossip beat.
Explore more LGBTQ+ history
Learn more about the gay experience in Wisconsin and beyond through these historical essays.
Fascinating Items from Our Historical Collections
The Society has many items related to LGBTQ+ history available to explore in our online collections. Here are a couple highlights.
Compelling Images from the Our Historical Collections
Outside Resources
The Society has put together this page with stories, images, and artifacts from our LGBTQ+ collections; however, these collections just scratch the surface of the history of the LGBTQ+ community in Wisconsin. Please take the opportunity to explore these additional resources from other Wisconsin sources.
Pride Month Merch!
Shop pride month related merchandise from our online store. 100% of the proceeds support the Society.
Shop Here
Support the Preservation of Wisconsin's History