Political History in Wisconsin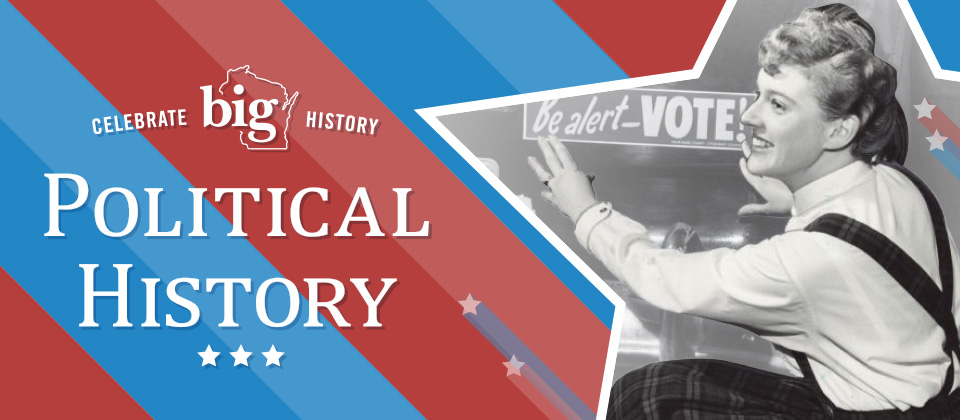 Celebrate BIG Moments: Political History in Wisconsin
The Badger State has a rich, ever-evolving political history. The Republican Party was founded in Ripon, Wisconsin, Milwaukee had a strong socialist movement in the early 20th century, and the Progressive Party briefly dominated the state's political landscape. Wisconsin has long held the label of a swing state in presidential elections, voting for Republican presidential candidates 25 times, Democrats 18 times, and Progressives once. As of 2021, thirty-one Wisconsin governors were Republicans, 12 were Democrats, one was a Progressive, and one was a Whig.
The Society has put together a page with stories, images, and artifacts from our political collections. These items just scratch the surface of the history of politics in Wisconsin. Please take an opportunity to explore these resources below.
Explore Political History
Learn more about politics in Wisconsin and beyond through these historical essays and online exhibits.
Fascinating Items From Our Historical Collections
The Society has thousands of items related to politics, political campaigns, and elections available to explore in our online collections. Here are a few highlights.
Compelling Images from the Society's Historical Collections
Read More from the WHS Press
Check out these related books from the Wisconsin Historical Society Press. They are available at your favorite book retailer, online, or through most e-book vendors.
Shop Political History
Shop political merchandise from our online store. 100% of the proceeds support the Society.
Support the Preservation of Wisconsin's History

Make a BIG impact by supporting the Society's efforts to continue to collect, preserve, and share stories about Wisconsin history.
Explore Wisconsin's History
You can find out more about our history in these pages focusing on other monthly celebrations!